Tour the Alaska Marine Highway System for the RV trip of a lifetime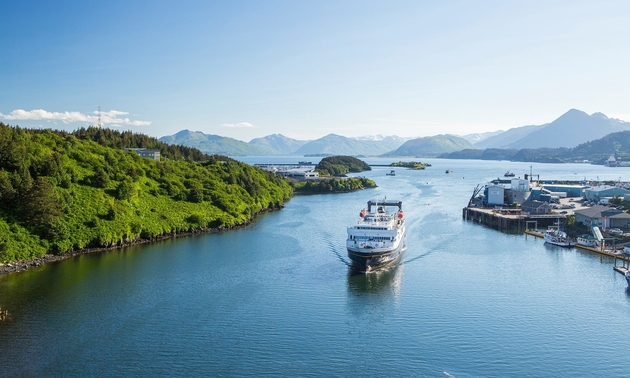 RVers are discovering the next big trend in travel destinations—the Alaska Marine Highway System (AMHS). This state-owned ferry system operates a fleet of vessels, taking travellers along a scenic 3,500-mile (5,632-kilometre) route from Washington State to the Aleutian Islands.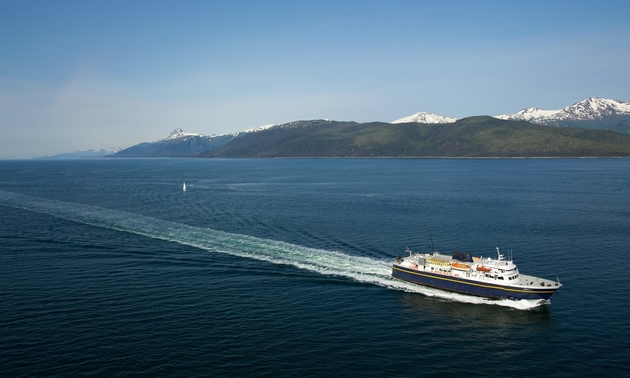 - Photo courtesy the Alaska Marine Highway System
The AMHS provides year-round, affordable transportation to more than 30 port communities, and it meanders through some of the most spectacular scenery in Alaska. This route has been recognized by the United States Department of Transportation as an All-American Road and one of America's National Scenic Byways.
While on the ferries, passengers can take in incredible views of glaciers, active volcanoes and fjords. You will also see wildlife, such as bald eagles, sea otters, whales, bears and porpoises.
Glorious natural scenery abounds along this route, creating excellent photo opportunities. - Photo courtesy the Alaska Marine Highway System
There are several reasons why RVers are excited to travel via the AMHS:
You can create your own schedule and explore at your own pace, stopping to explore quaint towns and natural attractions along the way.
There are places you can visit that are otherwise inaccessible via the main road system.
You can book multiple legs of your journey on different ferries, allowing you to spend more time in certain communities to fully customize your itinerary.
Moreover, the AMHS is kid-friendly. It's a great opportunity to take your children and/or your grandchildren for a trip of a lifetime—the memories will last for years.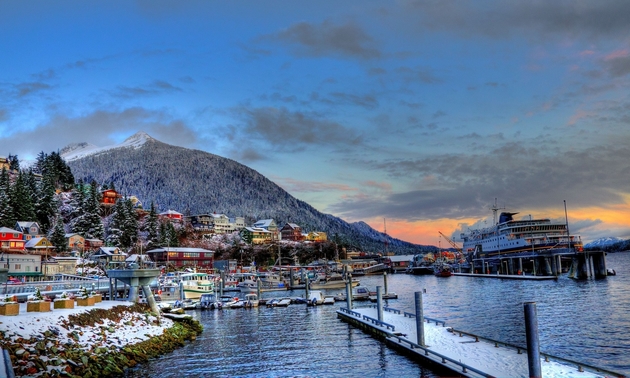 This travel route allows you to explore communities you couldn't access via the main roadways. - Photo courtesy the Alaska Marine Highway System
We had a chance to speak with Danielle Doyle, marketing manager for the AMHS, and asked her a few questions about this amazing water highway:
What are some of the most popular communities you can visit along the Alaska Marine Highway System?
In Southeast Alaska, there are the communities of Ketchikan, Juneau, Sitka and Haines.
In Southcentral Alaska, Homer and Kodiak are popular destinations.
What makes this route attractive to RVers?
The Alaska Marine Highway ferries allow RVers to see coastal Alaska, which is made up of island communities or those not connected to the inland highway.
If RVers drive both ways to Alaska without utilizing the ferries, they miss most of the coastal communities and repeat the same scenery. The ferry route helps to diversify a driving vacation to Alaska.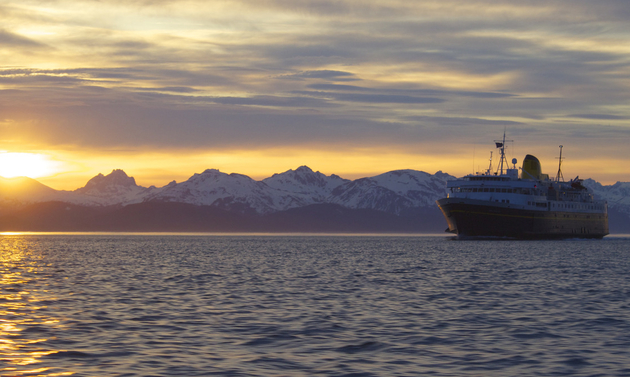 Sunsets are especially spectacular in this part of the world. - Photo courtesy the Alaska Marine Highway System
Where should RVers go to find maps or information about ferry access and connection points?
If you visit www.ferryalaska.com, our Where We Go section has lots of information on routes and connection points.
What can travellers see and do while in the area?
Southeast Alaska has much to offer sightseers, including the Tongass National Forest, Alaska native heritage and culture, and wildlife and whale watching.
Southcentral Alaska offers access to Denali National Park, glacier tours, kayaking and rafting, and dog mushing.
In Southwest Alaska, travellers can stop off for fishing and seafood, birding, Alaska native culture, whale watching and bear viewing.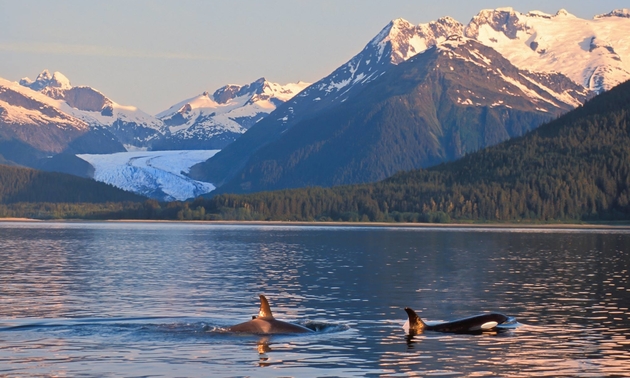 Orcas are among the wildlife you may see while on the ferries. - Photo courtesy the Alaska Marine Highway System
Is there a size limit for RVs boarding the ferries?
Forty-five feet (13.7 metres) is the standard limit, but on some of our larger vessels we can accommodate up to 60 feet (18 metres). There is a 13-foot (four-metre) height restriction.
Are advance reservations required to travel via the Alaska Marine Highway System?
The Alaska Marine Highway System usually has passenger space available, but reservations must be made in advance for vehicles.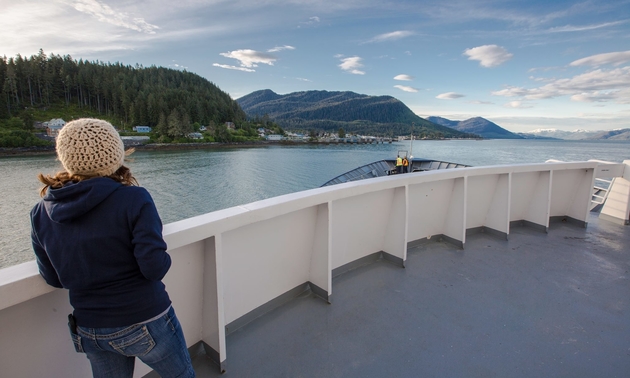 The ferries offer amazing views of quaint coastal communities. - Photo courtesy the Alaska Marine Highway System
What is the best time of year to explore this part of the world?
The best time for a driving vacation to Alaska is May to September.
Do you have any other tips for those hoping to take their RVs along the Alaska Marine Highway System this year?
Ensure that you take accurate measurements of your vehicle before making reservations. You will need the total length from the front bumper to the back bumper, and this must include any overhangs such as bike racks, tow-behinds or kayaks on the roof, etc.
Book early for the best rates.
AMHS rates are based on the total distance travelled plus the overall length of your vehicle. So if pricing is prohibitive, try a shorter route.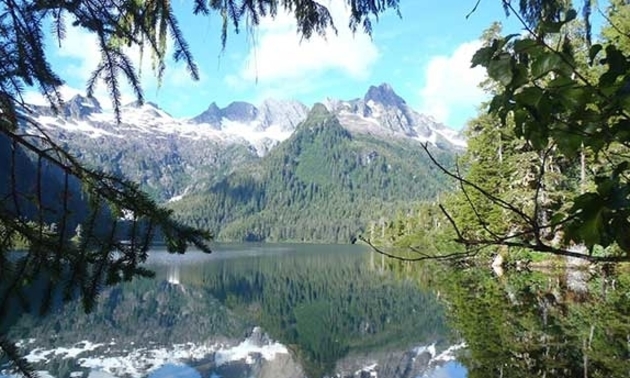 - Photo courtesy U.S. Forest Service, Tongass National Forest
Five must-see attractions in Alaska
Tongass National Forest

The Tongass National Forest is the largest national forest in the USA. You can hike or dog-sled on a glacier, go fishing, and see bears, eagles and other wildlife. There are viewing areas in the surrounding communities where you can see all different aspects of this vast park.

Tongass Historical Museum, Ketchikan

Learn about Alaskan history at this immersive museum in Ketchikan. There is an impressive collection of cultural artifacts to peruse, and the price of a pass also includes admission to the Totem Heritage Center.

Mendenhall Glacier Visitor Center, Juneau

Come and see the glorious Mendenhall Glacier for yourself. The visitor centre has a wealth of information on glacier activity in the area, and the staff can answer all your questions. Bring your camera!

The Alaska Raptor Center, Sitka

The Alaska Raptor Center is a facility dedicated to the rescue and rehabilitation of injured birds of prey. Birds that can't be released become part of the Raptors-in-Residence team, helping staff to educate visitors about the animals and their habitat.

The Haines Sheldon Museum, Haines

Located on the original Haines Mission grounds, the Haines Sheldon Museum boasts engaging exhibits depicting historic life in the Chilkat Valley. Guided tours are available upon request.
Tour the Alaska Marine Highway System for the RV trip of a lifetime Information