Pack the pup, quad and clubs for your winter in Yuma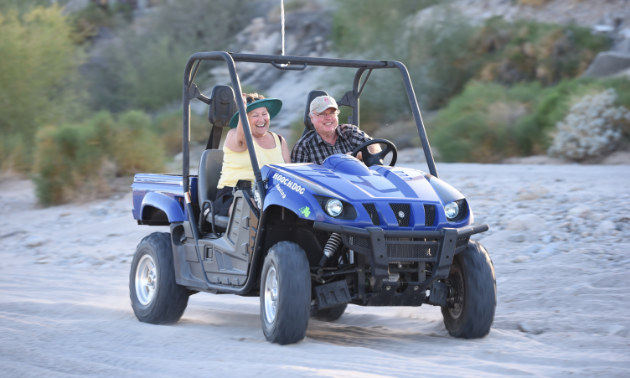 Toy hauler? Check. Golf clubs? Yup. Fido? You bet.
Sounds like you're all set for Yuma, Arizona.
Within Cal-Am Properties' Fortuna de Oro (FDO) and Sundance RV parks, you'll find everything an active 55+ snowbird like yourself could desire. Besides the on-site nine-hole golf course, party patios, pool and jacuzzi, FDO and Sundance contain numerous courts for bocce ball, pickleball, tennis, horseshoes, shuffleboard and even added curling as an option recently at the request of Canadian guests. And then there's the view.
"We are the closest RV resort to the Gila Mountains," said Felix Posos, director of marketing for Cal-Am Properties Inc. "You want the best view you can get. When the sun is coming up over those mountains, it's stunning."
Once you get yourself parked and settled, unleash your pooch in the dog agility park.
"We're really into dogs," Posos said. "We put in agility equipment: ramp, hoops, things for the dog to play. They love it. If your dog is barking, nobody's going to freak out that you brought your dog."
Now that your pup has stretched its legs, it's time for you to get out and have some fun too.
"It's ideal for people who have ATVs and want to get into the mountains and canyons," said Posos. "We have other resorts that are more for people that drive the quarter-million-dollar RVs that never get a speck of dust on them. This is the opposite. These are the people who want to have a great time.
"These are people who are enjoying their golden years—not by pulling up and watching TV—they really want to stay active. They're pushing themselves to get out and they're having a lot of fun. They're building lifelong friendships. They say 'I want space 283 because Bill and Sally are coming from Chicago and they're going to be in 282. Jan and Mark are going to be in 284.' There are all these little sub-communities. People will set up all their decorations around their RV. It's cute to see as you drive through. Everybody makes their space like their home."
As for which RV resort is right for you, it's a matter of preference. Fortuna de Oro and Sundance complement each other. They are adjacent to each other and contain all the basics.
"FDO is bigger and has everything you would want—there's a ton of stuff going on," said Posos. "For those who like a bit more of an intimate and smaller setting, Sundance is a great fit. And you get access to all the amenities, parties, concerts for both."
Pack the pup, quad and clubs for your winter in Yuma Information