Ideal RV living in Indio, California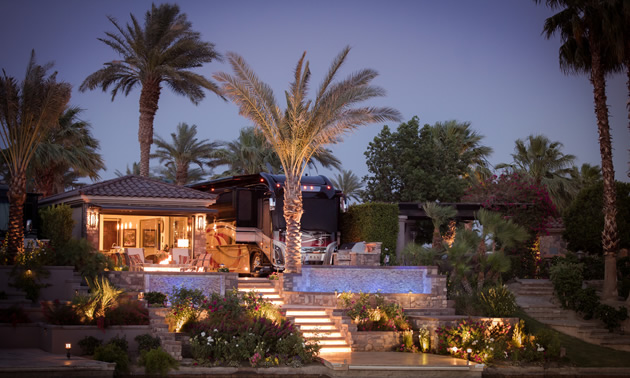 Indio, California, in the Palm Springs resort area east of La Quinta and Indian Wells, is the home of an RV resort unlike any other. Motorcoach Country Club offers ownership and rentals of luxury RV lots.
"They have to have a Class A motorhome, between 30 and 35 feet long," said the resort's on-site real estate broker, Kerry Johnston.
"It's the best facility ever built for people with motorhomes anywhere in the world."
Visitors will like the five-star restaurant, three kilometres (two miles) of navigable waterways for boats, a par-three golf course and the 200-amp electric service and natural gas available at each lot.
"There are some decent facilities out there, but if you take our overall package (with the golf course, fitness centre, waterways and location to the local community), we have everything," said Johnston.
"We are a mile and a half from shopping, casinos and anything else you could possibly want."
A golfers paradise
As for the golf, Johnston is the brains and brawn behind the course. It's a nine-hole, par-three course, with two sets of tees.
"You have a set of tees for the front nine and a second set for the back nine," said Johnston. "This gives you two different looks at it. Seven of the nine holes are over water, so you wouldn't want to head out on this course with only one ball."
There is a Pro-am tournament every year in February, which is the resort's main event. Johnston brings in eight golf pros from around the country, and they face off with his resort members.
No shortage of activities
There's always something going on at Motorcoach Country Club, whether it's a margarita crawl on the waterways or live music events in the park between the tennis courts. Johnston, who has more than 35 years in the industry, carefully tailors each resident's lot to suit their specific requirements.
"Motorcoach is the only facility where you can build your own hot tub or pool on your lot," said Johnston. "The best outdoor living possible during the winter is available at this resort."
Water, water everywhere
The resort has 138 water lots that give access to the waterways. If you have your own boat, kayak or canoe, you can float over to the marina, dock it for dinner at the clubhouse and then float home. The 88 golf course lots allow members to drive on to the course directly.
The remaining are privacy lots, where you give up your view in exchange for complete backyard seclusion. Residents don't have to worry about keeping their pets on leashes, as they can run around the fenced-in space.
"If you want a pool or Jacuzzi," said Johnston, "you can have complete privacy there too. You're out of the fishbowl."
Indio has some of the best weather in the world during the winter. Few bugs can be found and even fewer raindrops. The area has no humidity. This makes RVing year round just a little sweeter.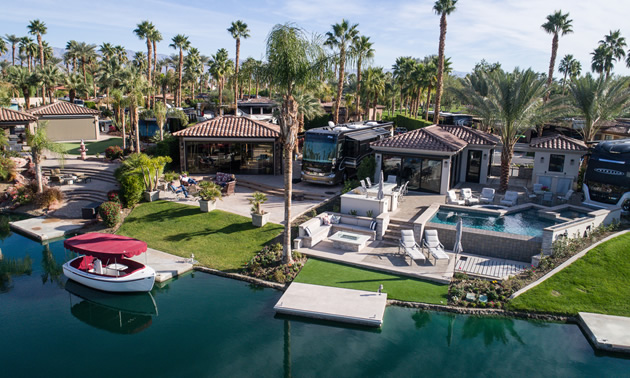 Ideal RV living in Indio, California Information