Flex Solar brings alternative energy to RVers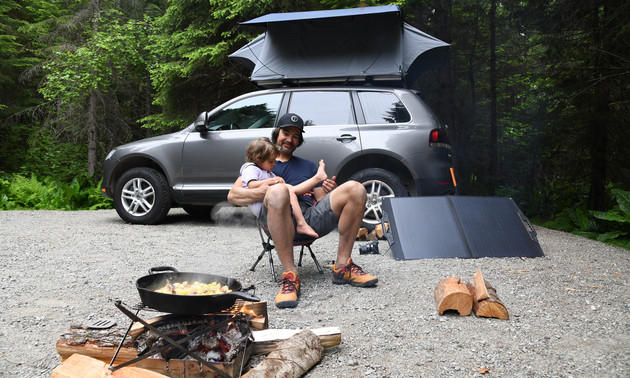 Modern RVs are equipped with a wide range of comforts—with deluxe livingrooms, kitchens bedrooms and media centres. The potential amenities are only limited by the amount of power that can be brought to a destination.
Given the record-breaking gas prices, energy alternatives are increasingly necessary for those wishing to experience more from their camping excursions. Fortunately, new technologies continue to provide safe alternatives to make every adventure a success.
Flex Solar's reliable energy solutions allow you to harness the power of the sun and enhance your travel experience. Combined with their lightweight 1,000-watt Portable Power Station, Flex Solar's RV100 systems are designed to provide endless power for all phones, USB devices, laptops/desktops, most electronic devices and home appliances. It can be recharged via PD Type-C port, AC power adapter, car charger and solar panel at 120 watts max input. If you pair it with a portable solar panel, you end up with a portable solar generator for outdoor recreation, off-grid power supply and home backup power.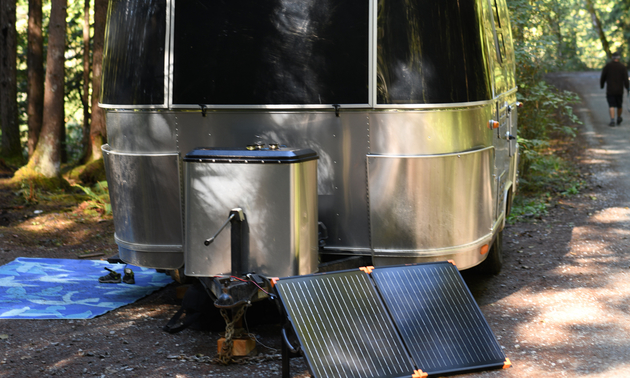 ;
- Photo courtesy Flex Solar
When married with the Life Giving Warmth Cozee and Kodiak battery-powered heating blanket, users can use the power of the sun to keep them warm all night. The blankets from Life Giving Warmth are a safe alternative to open flame and propane heating solutions, providing over three hours of heat.
The adventure never ends when we harness the power of light. The easy-to-use and long-lasting power solutions from Flex Solar turn any roof into a personal power plant to meet the needs of every electronic device, even the Cozee and Kodiak. Safe alternatives such as Flex Solar and Life Giving Warmth battery-powered heating blankets will be essential gear to own this summer as heightened concerns over fire safety keep open fire and generators banned or limited in many areas.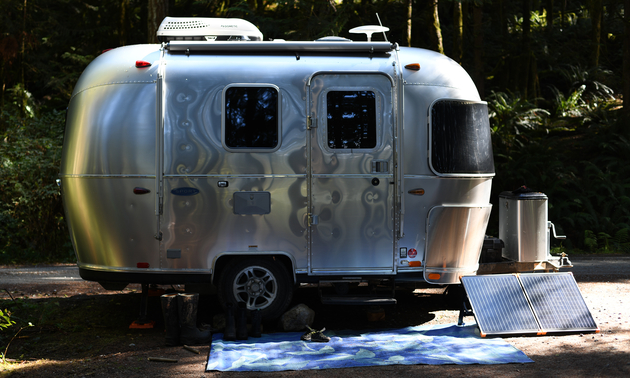 ;
- Photo courtesy Flex Solar
Product specifications and information:
Flex Solar manufactures quality solar panel chargers that last longer at a reasonable price. With a focus on efficiency, portability, and versatility, Flex Solar makes solar living a hassle-free reality.
About the RV100 solar panels for RV/van conversion:
Optimized charging for RV life: The RV100 solar panel is designed for RVs, cabins, homes, boats, caravans, back-up and remote power use. It is constructed with high-performance monocrystalline solar cells that offer up to 24 per cent higher efficiency than polycrystalline in bright weather conditions. Simply put, it harnesses the sun to energize your off-grid adventures.
Compatible with multiple kinds of battery recharging: With a 12V/24V-10A PWM solar controller, the solar panel is compatible with sealed, GEL, lead-acid, lithium, and lithium iron phosphate battery charging. It can prevent overcharge, over-voltage, discharge and short circuiting, and offers reversed polarity protection.
Fast and easy installation: These kits include Z mounting brackets (four pieces) and are easy to set up with pre-drilled holes on the back of the panel for fast mounting and securing.

Built for all weather conditions: Weatherproof cable entry box, IP65. The corrosion resistant, anti-UV black anodized frame is totally air-proof, ensuring a longer lifetime for the solar panel
About the 1,000-watt portable power station:
The most compact 1,021Wh power station: With a weight of 18.7 pounds (8.5 kilograms) the Flex Solar 1,000-watt maybe the most lightweight portable power station, 20 per cent more lightweight than other 1,000Wh rivals. With the compact design and a sturdy handle, it is portable to carry.
Whopping capacity and output: Equipped with 1021Wh lithium batteries, and output power of 1,000 watts (2,000-watt peak), you can charge almost anything anywhere and leave it at home as a backup power supply.

Multiple ports, versatile to charge: The portable power station has two AC outlets (total 1,000-watt max), two USB Quick Charge 3.0 output ports (each 18 watts max), one bidirectional USB PD Type-C input/output port (100-watt max), one DC car charge (120-watt max), and one DC output port (120-watt max), so the power station can charge almost all electronic devices and appliances.

Safe and easy to use: With 10 BMS (battery management system) protections, the power station can be prevented from over-charge, over-voltage, over-current and other risks. Just plug and play, it is easy to charge and recharge without any hassle.

Wireless mobile control: By connecting with the app via Bluetooth, you can control the input/output of the power station and check the charging time with your smartphone.
For more information on this innovative solution, visit the Flex Solar website.
Flex Solar brings alternative energy to RVers Information