Escape Trailer Industries offers a unique trailer and customer experience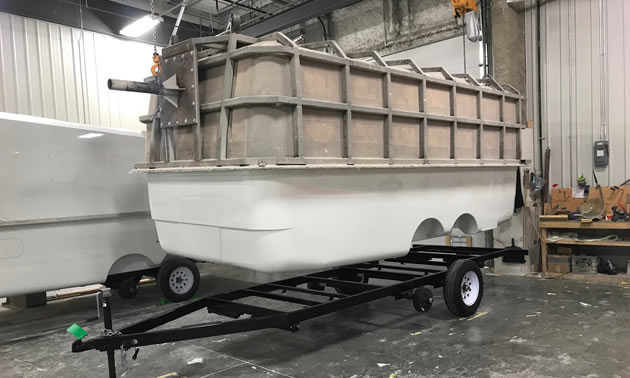 Since 2002, Escape Trailer Industries has produced the only fully fibreglass trailer made in Canada. And every year the trailers get better because Escape is connected to its customers in a unique way. Reace and Tammy Harmatuik got their business start in 1993 by renting trailers. They work hard and have come a long way since then.
Reace Harmatuik said, "You can't climb a ladder with your hands in your pockets."
Escape customers connect with manufacturer directly
Escape Trailer owners deal directly with the manufacturer. Reace and Tammy Harmatuik don't rely on middlemen to receive comments from customers—they hear it directly from owners. Back in 1993, customers returning trailer rentals would start a sentence with "I wish the trailer had …."
Harmatuiks collected nearly 10 years of customer feedback to create the Escape designs.
"We are a good little secret," said Tammy. "Our customers want more for their money. They want to travel worry-free. We sell direct with no dealer network, and our goal is no warranty work. There are 30- and 40-year-old Trillium and Bolers still on the road, and 30 or 40 years from now we expect Escape trailers will be on the road, too."
The Harmatuiks listen to their customers. When customer Tim Bennett proposed a layout for the new 19-foot Escape, they posted the design on the Escape forum. Members affirmed the design, and that trailer is still referred to as the Tim Bennett design. When customers wanted an another inch width in the cabinet doors, they made those changes. Customers love the new wider cabinet doors.
Escape customers stay connected with each other
Escape Trailer Owners connect with each other online to discuss everything from how to best look after Escape trailers to the best places to visit and specific advice on which roads afford the best views. A map covered in icons shows where each Escape owner is located.
"We have friends all over North America," said Tammy. "We host a camp weekend in May. People from Florida met people from Oregon, who met people from Alberta at previous rallies. Now they are going together to Alaska."
Escape Trailer Industries offers a unique trailer and customer experience Information