Escape to B.C.'s island paradise this winter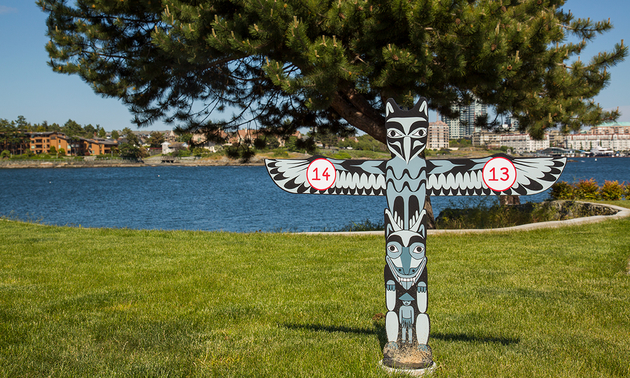 Dear Canadian snowbirds - we're letting you in on a big, exciting secret. You don't have to travel south to find a dreamy vacation spot, far removed from harsh winter conditions. We live our own island dream right here in Canada - and you can sample the best of it at the Salish Seaside RV Haven in Victoria. Situated in Victoria, on picuresque Vancouver Island, this RV resort has all the ingredients you need to make your snowbirding season memorable for all the right reasons.
The Haven offers monthly rates between November and March, and they are waiting to welcome snowbirds with open arms.
Winter? What's that?
Just a little island humour there...but we're only half joking. The climate on Vancouver Island is remarkably temperate, and winters seldom bring more than a day or two of snow in Victoria. You'll get just enough time to enjoy the beauty of falling flakes before it melts away a short time later. No shovelling the driveway or plowing the roads - a snow day here is just a tranquil homage to the weather you left behind.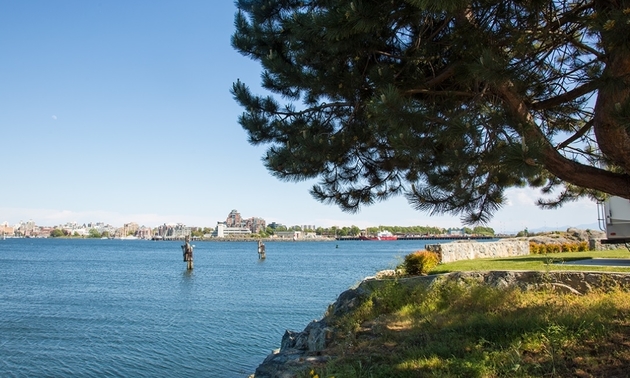 A central location and ample amenities
The Haven couldn't be in a better location. It's nestled on a private peninsula in the heart of Victoria's bustling inner harbour, which is a central gathering place for all sorts of community activities. The resort is proudly owned and operated by the Songhees and Esquimalt Nations. It used to be the site of West Bay Village RV Park, however it's been rebuilt and redesigned with a modern, classy aesthetic.
Waterfront views are a major plus, and most of the Haven's RV sites have them. All sites have full hook-ups, with 20-, 30- and 50-amp power, sewer and water. The resort is also big-rig friendly, and offers free Wi-Fi.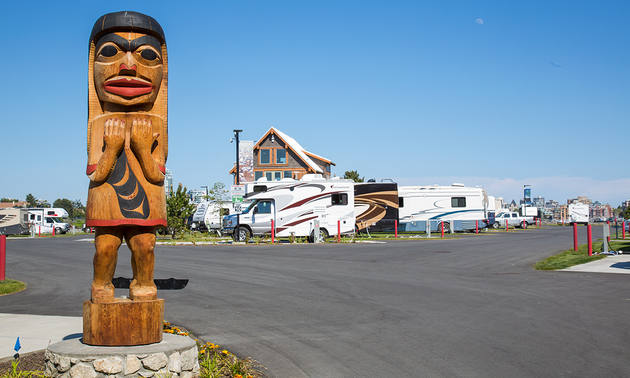 The new clubhouse is another key feature, as it has updated washrooms, showers, laundry facilities and an impressive upstairs meeting room that has barbecues, decks and fireplaces.
Don't feel like grocery shopping during your holiday? No worries there. Thrifty Foods has delivery service, and an online shopping interface that makes this chore a breeze.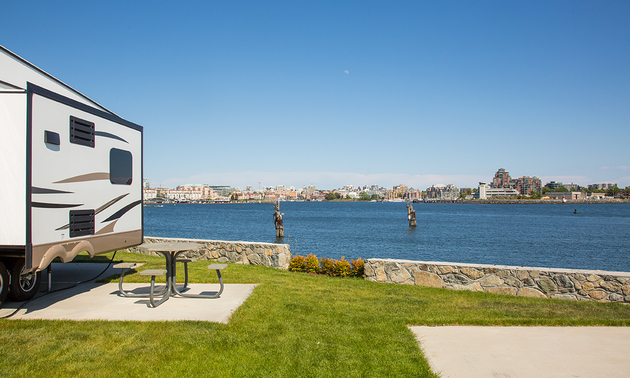 What can we do during our stay?
You could spend the next ten winters snowbirding here and you'd still be finding new things to see and do in this awesome city. The resort is right on Victoria's inner harbour, and that's a great place to start exploring. The waters nearby are home to ocean wildlife, and if you go down to the docks regularly, you are almost guaranteed to run into some curious harbour seals (you're not allowed to feed them, but they will often pose for some adorable photos). Depending on the timing of your visit, you may be able to go out on a boat tour and see some whales, sea lions, otters, orcas and other marine animals.
Sports enthusiasts will be in awe of the golf courses near by, and there are opportunities galore for fishing, sailing, hiking and other outdoor activities. Beachcombing is serious business on the island, and there are so many sandy sanctuaries here that you can find your own private corner to sunbathe, swim or marvel at the tide pools teeming with sea anemones, crustaceans and mollusks. If you want to experience nature in a more adventurous way, don your best rain gear and protective footwear (the rocks can be slippery and rugged), and take a two-hour drive out to Botanical Beach during low tide. You will see crashing waves, vibrant sea creatures and a landscape that will make you feel like you're on another planet. Bring a camera, you will want photos of this magical place. Please remember to respect the delicate ecosystems that flourish here - keep your distance from wildlife and tread lightly so that the island can continue to host this diverse cornucopia of life.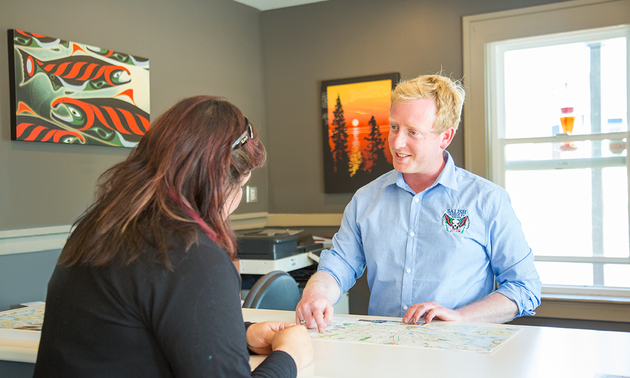 If outdoor activities are not on your radar, don't fret! There are heritage tours, museums, quirky shops, live entertainment venues and dining establishments with culinary masterpieces made from fresh, wholesome ingredients. The local First Nations communities kindly share their celebrations, traditions and culture with visitors, so there are many opportunities to learn about island history.
Book your stay today
Are you ready to spoil yourself with a stay at this Canadian island paradise? Book your site at the Salish Seaside RV Haven now, while space is still available. You will soon see why it became known as Western Canada's premium RV resort.
Escape to B.C.'s island paradise this winter Information