Ask a safety officer: How to avoid RV safety hazards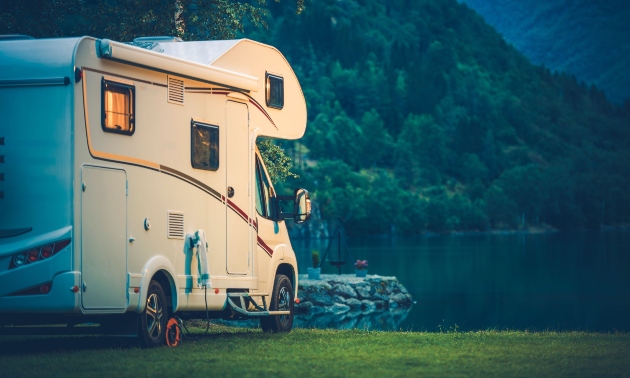 Summer is now in full swing and you're probably itching to hit the road and explore the natural beauty British Columbia has to offer. Before you do, though, make sure you know the dos and don'ts of propane safety.
At Technical Safety BC, we oversee the safe installation and operation of technical systems and equipment across the province and receive alerts and reports of different safety related incidents. We spoke with our gas Safety Officer, Michael Patricelli, about recent RV propane incidents and hazards he's observed. He explained how the incidents could be prevented and offered some tips on how RV owners can stay safe as they prepare for their next RV trip.
Incident #1: Underbelly Mounted Tank Explosion
In one incident an attendant was refueling a camper van with an underbelly mounted propane tank at a card lock auto dispenser. During refueling, propane vapor found a source of ignition and set the dispenser and vehicle on fire. The most likely cause was incorrect filling of the propane tank by a newly certified attendant. While no injuries were reported, it was a dangerous situation.
Recently, Technical Safety BC has seen numerous incident reports resulting from over-filling propane tanks. Patricelli explains that "In this situation, there should not have been enough propane to ever reach a source of ignition. It's important to stay vigilant and watch for signs of leaking propane — propane has a distinct smell."
Being present and aware when your RV is getting filled is recommended.
Qualified individuals that are properly trained should be on site for filling tanks, but RV users and owners should also be familiar with common safety practices. Many are not aware that tanks should only be filled 80% of the way through and that all RV appliances should be turned off. Leaving your fridge on with the back flame lit is also a common mistake. If there is a leak, the flame could potentially ignite and cause a fire.
"If you smell propane, or find evidence that the tank hadn't been filled properly, you should notify Technical Safety BC safety officers," says Patricelli. "That will give us the opportunity to talk to the stations and make sure they're using qualified staff and following proper procedures. This can help prevent incidents like these from occurring."
Incident #2: Propane Cylinder Explosion
In another notable incident, a propane oven connected to an 80-gallon propane cylinder outside an RV trailer malfunctioned, likely due to corrosion of the propane oven tubing. This caused a propane leak, which then ignited when the owner attempted to light the top burners, causing an explosion and fire. The owner suffered severe burns to their face, hands, ears, and legs.
RVs should always have carbon monoxide and propane detectors installed, especially close to the floor. If your propane detector goes off, you should turn off your propane system and get it checked out by a qualified individual.
"Propane tanks sometimes sit down low, and if propane is leaking, it's going to make its way down to the lowest point. Even if you don't necessarily smell or detect it, a source of ignition will find it," explains Patricelli.
Getting your system pressure tested and regularly serviced by a qualified individual is recommended to confirm that your propane system is in safe operating order. If you're on the road and unable to do so, check the equipment in your trailer to make sure there's no yellow flames, which are a sign of incomplete combustion and a possible source of carbon monoxide.
As Patricelli confirms, propane cylinder explosions like these can be common if people aren't maintaining their equipment and they're not aware of signs of propane leaks like the smell.
"We generally find an RV trailer about once a year that has caught on fire."
If you own a camper van that is smaller and has a retrofitted propane tank, it's important to maintain your propane system year-round. Camper vans with retrofitted propane systems have a higher potential for vibration as you're driving, especially off-road. That vibration may cause parts to loosen up and rub together, which could create a leak, so making sure your system is regularly maintained will help to keep you safe.
"Incidents can happen at any time with some of these systems, and if you're out and about driving around, it's easy to crack a line or cause damage to that system," explains Patricelli. "Try to familiarize yourself with the propane system on your vehicle and get it inspected regularly — you never know what could have gone on when travelling between point A and point B."
Before heading out in your RV this summer, make sure you know how to keep your RV and propane systems operating safely so you can enjoy your travels knowing your safety is covered. If you have questions or have any other RV safety incidents to report, reach out to us. We also recommend checking out the following resources:
Ask a safety officer: How to avoid RV safety hazards Information