All aboard! Aspen Crossing brings the Prairie railroad experience to life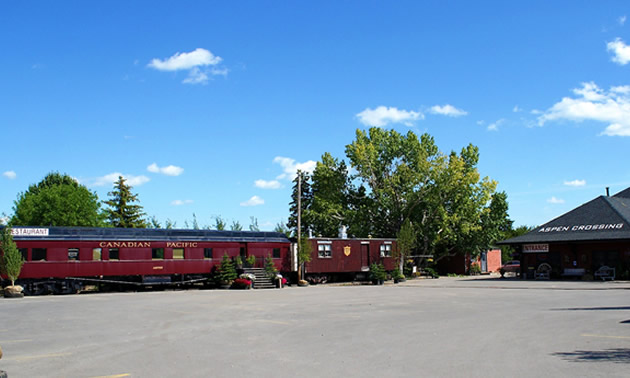 Aspen Crossing is located between two major cities in Alberta, Lethbridge and Calgary. Just a mere 45 minutes southeast of Calgary on Highway 24, Aspen Crossing sits in the rural hamlet of Mossleigh, Alberta.
This train-themed tourist destination has been evolving for over 13 years now. It continues to expand and grow while retaining and sharing Alberta's Prairie heritage.
Starting out as a nursery and tree farm, Aspen Crossing sits on 300 acres in the Canadian Badlands. This Prairie oasis boasts an 1887 Pullman rail car steeped in Canadian history beyond its American origin. It was once used by Prime Minister John Diefenbaker as his campaign rail car in the mid 1950s.
Currently, the Pullman car functions as a fully licensed restaurant that seats 56 inside and another 25 to 30 outside on a beautiful deck in summer weather.
The replica 1905 CP train station offers a wide variety of local goods and fabulous one-of-a-kind items to help you find the perfect gift or decorating addition to your home. It also functions as a train station where you can pick up your train tickets for one of the 11 different themed train excursions currently being offered.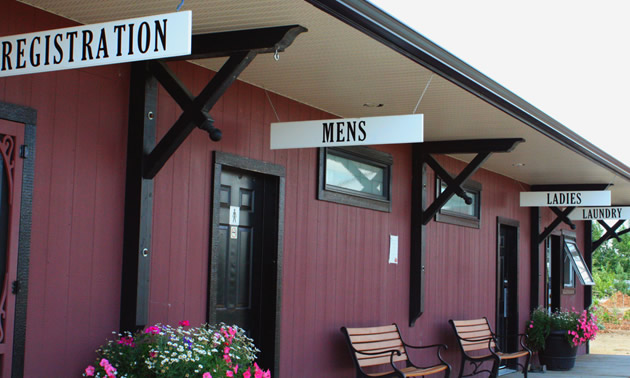 Themes include: Wine and Cheese, Ales on Rails, Circus Train, Dinner Theatre and Champagne Brunch, just to mention a few.
The average train tour runs between two and four hours. Some excursions include food, while others have food and beverage available for purchase onboard the train. There is a variety of entertainment and most have a train robbery as part of the experience. The best part is being able to experience what our ancestors did when they first arrived on the Alberta Prairies more than 120 years ago.
Aspen Crossing is also the first in Alberta to be authorized to offer The Polar Express™ Train Ride based on the book and movie of the same name. The Aspen Crossing Railway is also the first Halloween haunt on rails in Canada under the name of The Train of Terror.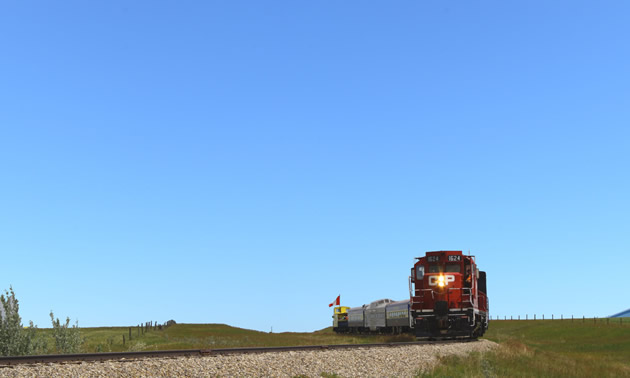 This Prairie oasis is something that has to be seen to be believed. In today's chronically hectic world, Aspen Crossing is just the place to get away to disconnect so that you can reconnect with family and friends.
The 115 campsites are well treed, big-rig friendly, pet friendly and complete with firepit. There are also three group shelters available to accommodate corporate bookings, family reunions or any large group gathering.
You'll find the Aspen Crossing campground the perfect place to use as a base if you are intent on travelling and exploring Southern Alberta. Full facilities include:
Laundry facilities
Modern showers
Flushing toilets
Group camping
Fully serviced sites
Sani-dump stations
Big-rig friendly (pull-throughs)
Professional helpful staff
Complete with areas to walk or bike ride, you'll be able to kick back and relax in true camping style. If you'd rather not camp, then you might want to try glamp-ing instead in one of three well-appointed Caboose Cabins—the fun of camping but with hotel amenities! These Caboose Cabins will have you back on track in no time. Say goodbye to stress and enjoy this great Prairie oasis.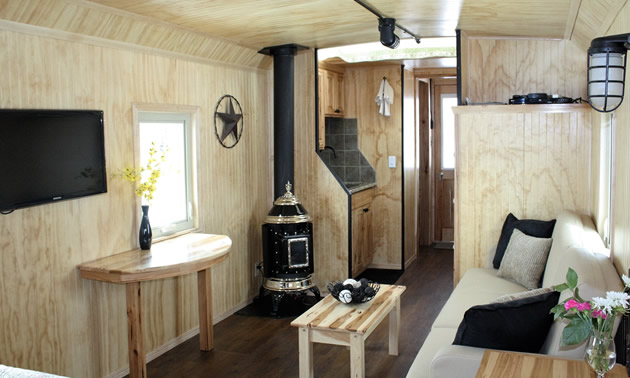 Come help us celebrate our railway ties!
Website: http://www.aspencrossing.com
Phone: 403-534-2129
Facebook: https://www.facebook.com/AspenCrossing/
Twitter: https://twitter.com/Aspen_Crossing

All aboard! Aspen Crossing brings the Prairie railroad experience to life Information