'I Spy'd" a Vintage Motorhome—a Dodge Swinger motorhome
Dodge produced the Swinger line from the early 1970's to the mid 1980's, eventually abandoning the idea of getting into the RV industry.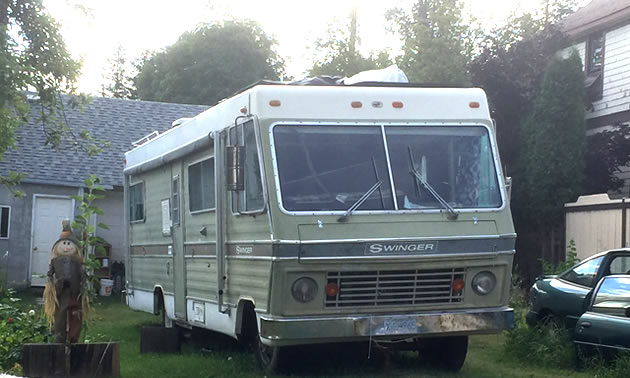 When the largest automotive company in the world, General Motors, decided to create a recreational vehicle division it must have spurred rival auto maker Dodge to jump into the RV industry as well.
The result was the creation of the Dodge Swinger line of motorhomes. This rather nondescript RV unit was distinctive primarily for its somewhat drab olive green colour. The motorhome looked like a cheaper knock-off of the industry leading Winnebago line of motorhomes rather than a head-to-head competitor to the GM-inspired, space-age looking models.
It appears that Dodge produced the Swinger line from the early 1970's to the mid 1980's. They eventually abandoned the idea of trying to make a go of it in the RV industry, just like GM dropped their line of motorhomes after a few years of manufacturing.
One Swinger model called the M300 sported a 1-ton chassis with a 318 heavy motor and a 2 bbl Carter BBD carburetor.
Here's what the NADA guides say about the Dodge Swinger motorhome: "A recreational vehicle company founded during the 1970s, Swinger produced vacation trailers and motorhomes. After 1976, Swinger production centered on Class A motorhomes spanning from 24 to 34 feet in length. The Swinger relied on the popular and reputable Dodge powertrain in propelling their line of motorhomes. Following the 1984 model year, the Swinger brand was shuttered before Georgie Boy Manufacturing Incorporated reactivated the name in 1992."
What do you know about Dodge Swinger motorhomes? Do you have an adventure to share? Did you ever own one? Tell us your Dodge Swinger motorhomes stories.
Contact RV West at [email protected].