I Spy'd a Vintage Motorhome: The mystery of the Empress motorhome
The Empress was built by HaiCo Manufacturing, a division of Wickes, of Lethbridge Alberta, from the 1960's to the early 1980's.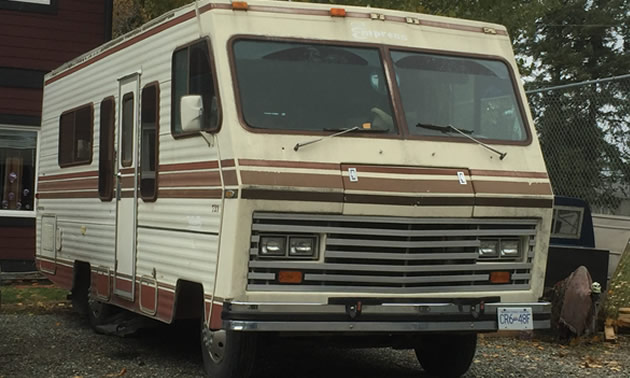 I recently spied this well-maintained Empress Motorhome sitting in a neighbourhood driveway and was curious about its heritage and legacy.
The history of the Empress Motorhome seemingly is a tangled web of starts and stops, changes of ownership and new beginnings. First produced by a division of the US-based Wickes Corporation based in Canada, the Empress Motorhome is still a popular unit among many RVers today.
One on-line discussion forum states, "The Empress was built by HaiCo Manufacturing, a division of Wickes, of Lethbridge Alberta. It looks like this firm started making RVs in the late 1960s and lasted about a dozen years or so – the newest examples we could find were from the early 80s."
The forum continues, "You'll notice a Dodge logo on the front grill, which was the firm that supplied the motorhome's chassis. The drive train, suspension and electrical parts, and other associated components are the same as those found in a one ton truck from that maker. As such, this means most mechanical issues can be fixed cheaply and easily. The front and rear caps and roof of the motorhome are molded fibreglass while the fluted sides may be fibreglass or something else. We couldn't tell. In that era, fibreglass-bodied motorhomes were less common, as a result of being more expensive to manufacture than those that were made with flat walls clad in metal siding. Fibreglass did offer up some distinct advantages. For example, molded material allowed for a more stylish and streamlined body work. It appears that for a time HaiCo also made camping trailers which from what we can tell are super rare—not that the motorhomes are particularly common."
Another forum commented, "The Wickes company had a facility in Lethbridge, Alberta but it would seem that it either closed or was bought out by another company in the early 80's."
Enter the Triple E Empress. The Manitoba-based company which ceased building Class A motorhomes, travel trailers and fifth wheels in 2010, to concentrate on the production of the Leisure Travel Vans Class A and Class B, either took over the Empress production or started it fresh in the 1980's.
The Triple E Empress SE was launched in Canada in 1988. It was called by the company a "bold new aerodynamic design, featuring a 45 degree sloped windshield for increased visibility." It is difficult to determine if there is a direct connect between the Wickes build Empress and Triple E resurgence of the Empress.
The RV industry in Canada went through some massive changes and hiccups in the late 1970's and early 1980's with colourful entrepreneurs and business magnets like Vancouver's Jim Pattison opening, closing and merging RV manufacturing plants on a regular basis. So it is quite plausible that there is a connect between the original line of Empress motorhomes and the one's Triple E built for many years—I'm just not certain what it was?
Do you have some light to shed on the history of the Empress motorhome? Share it with us at RV West—[email protected]