"I spy'd" a vintage motorhome—1970's Winnebago Brave
A true classic, the Winnebago has stood the test of time and is still a popular choice with RVers.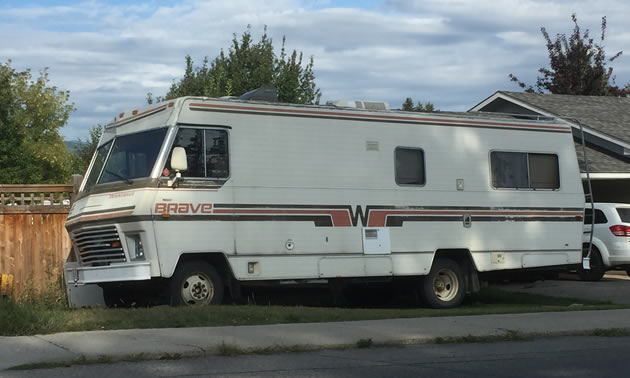 Earlier this summer I spotted a 1970's vintage Winnebago Brave motorhome parked at the curb on a nearby street. The unit appeared in decent shape and was in good running order.
In the late '60s and '70s, there was no mistaking a Winnebago motorhome. The bold Flying W and iconic "eyebrow" designs were cutting paths to fun and adventure from coast to coast. It was the coach that made America fall in love with motorhomes. Their list price ran at just over $4000 and these flagship motorhomes were obviously priced to fit a growing family's budget.
According to Wikipedia, "In 1966 the first motor home rolled off the Winnebago Industries assembly lines. These motor homes were sold at a price approximately half of what was being charged for competitors' models, which led to its ubiquity and popularity in the RV community. The brand name has become synonymous with "motor home" and is commonly used as a generic trademark for such vehicles, whether they were produced by the company or not.
Through the 1970s and into the 1980s model names were influenced by the Native American tribe of the same name and included the Brave, the Indian, the Chieftain, and the Warrior. Older Winnebago RVs are often recognizable by the painted "w" (also called the "flying W") on the side of the vehicle, with a stripe that connects the front and back of the camper."
Recently Winnebago has re-introduced the Brave to their line-up—building on its long legacy of this popular model. The new retro-Brave echoes the classic look and feel of the original model but with all the amenities today's RV'ers demand.
Do you have a vintage motorhome story or adventure to share? Did you ever own a Winnebago Brave or do you currently own one?
Send RVwest your photos and stories. Email me at: [email protected]