Artistic flair
Renovations with a creative twist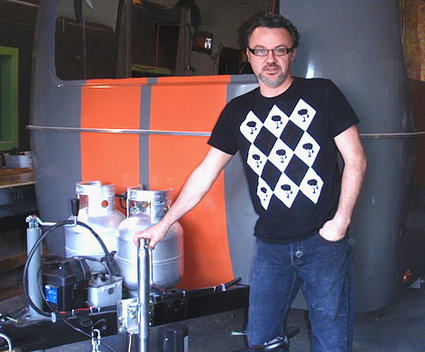 Adrian Manton and his wife Robin have discovered the joy of vintage RV renovations. Their current project is a Boler that they are upgrading and giving a new edge, but it is not their first endeavour of this kind.
"We originally purchased a 2001 Palimono tent trailer to renovate," said Manton. "We did some fixing up with new upholstery, curtains and flooring, but decided that it wasn't worth investing a lot of money in. My wife, Robin, wanted to be able to take the kids camping on her own but couldn't manage to get the tent trailer up on her own. Also, I have an issue with bears and never got a good night's sleep in the tent trailer waiting for them to rip through the canvas."
The Mantons decided they needed to upgrade and get something safer.
"Our original thought was to get an older Airstream but then we decided to get a Boler and out-do any Airstream on the market," said Manton. "Fifteen years of renovating our house has given us a lot of experience. We started from scratch with not even a kitchen and now have that plus a dining room, living room, two bathrooms, three bedrooms, a den and a studio in a house we duplexed. People say we ran out of room in the house so had to start on the Boler."
The Mantons have a unique and energetic style that gives their renovations an artistic flair.
"We are somewhat non-conformist artists," said Manton. "If you have to go camping, why not do it in a style all your own? We always had a vision of cool gadgets and a crisp, clean look inside. As we looked at what was available, we modified according to what interesting add-ons we could find on eBay. Our ideas came from 22 years of working in the interior/furniture design business."
Finding the various building and decorating supplies proved to be a large part of the fun. EBay was a great channel for discovering new design elements, with a virtually unlimited source of unusual treasures to be found.
Even though the Boler project has come a long way, it has even more changes to undergo before its completion.
"We're about halfway through," said Manton. "Our next step is to clad the interior with aluminum. After that is an install of either recycled rubber or cork flooring. Then comes the backlit white uppers with orange plexi sliders and ebonized oak lower cupboards. The supports for the beds and seating areas will be brushed steel. The coolest thing that we bought to put on the Boler is called an EZTug. No more hiding in the next campsite with the kids while the wife attempts to back the trailer into the site."
Once the renovation has been finished, this family looks forward to a summer of travel.
"As for use, this is our cottage on wheels," said Manton. "We hit Sturgeon Bay and Killbear provincial parks every summer. Our dream is to buy a little piece of waterfront property up on Manitoulin Island to park it on for the summer. Knowing that there is no other Boler like this in the world is a great satisfaction. It's an opportunity to utilize my skills and know how (to do) something for myself for a change."
To learn more about the art and style of Adrian Manton, check out the website for his business, Adrian Manton Furniture and Finishes.