Take a sweet tooth tour through San Diego County to Borrego Springs
On your way to Borrego Springs, check out these great dessert destinations
by Kimberly Schoenberger —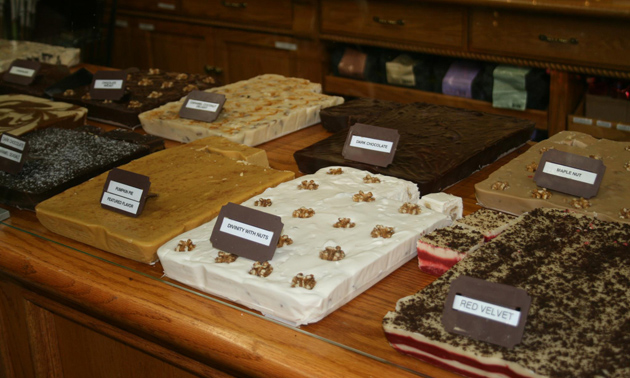 On your way to Borrego Springs, make your way through this selection of amazingly delicious (though not exactly nutritious) Californian food stops that are sure to hit your sweet tooth.
Bates Nut Farm
Start off in Bates Nut Farm in Valley Centre, just an hour and 15 minutes west of Borrego Springs. This farm has been passed down through five different generations of the Bates family since it was first purchased by Gilbert and Beatrice Bates in 1921.
The top selling items at Bates Nut Farm, as the name would suggest, are the wide variety of nuts, including almonds, Brazil nuts, cashews, hazelnuts, macadamias, pecans, peanuts and more. However, the nut farm is also famous for its homemade fudge, which comes in more than 20 unique and delicious flavours.
"The fudge is made fresh on the farm," said Amy Archipov, an employee of Bates Nut Farm. "Two of our employees make it every Wednesday."
Another catch at the farm is the collection of candy barrels that are stocked in the gift store. Varieties of sweets from bubble gum, caramel and dried fruit, to chocolate, licorice and gumdrops fill these giant barrels that draw everyone's attention, no matter their age.
"We have nuts, dried fruit, gourmet foods, gift items and candy," said Archipov. "There's big candy barrels and the homemade fudge, so it really gets everybody, both kids and adults."
The farm also has a variety of events and tours that take place through the year, so no matter when you head out, we can promise that there will be something fun and exciting to do.
"We have pumpkin patch tours in October," said Archipov, "and we have Nuts for You tours all the other times of the year."
Candied Apple Pastry Company
Continue heading east toward Borrego Springs and about 40 minutes out you'll find the lovely little community of Julian, California. This town features the one-of-a-kind Candied Apple Pastry Company, with amazing confectionary treats made exclusively by executive pastry chef Charles Scott.
In the store you can sit and enjoy a variety of fine coffees and espressos, coupled with any one of the delectable desserts that are available, including pastries, cakes, cookies, brownies and more. You can also take a look through the intricately-designed wedding and other specialty cake albums, and talk to the chef about any of his products and how you can plan for executing the perfect event, complete with amazing desserts.
The company was founded 10 years ago in the Historical Fire House Building in Julian, and today is one of the town's most treasured destinations.
Olde Homestead Fudge Co.
Finish up your sweet tooth tour at Olde Homestead Fudge Co., located right in Borrego Springs on Palm Canyon Drive. This little shop, locally known as the Fudge Factory, has been running for nearly 15 years and has sold more than 83,000 pounds of fudge.
The store sells its products both online and instore, and Olde Homestead assures only the best quality fudge for their customers. One of the secrets to the smoothness and high quality of their product is a slow cooling process. This method allows the sugar in the fudge to remain properly blended with the rest of the mixture, whereas if it is cooled quickly the sugar can crystallize and leave the fudge with a grainy, sandy texture.
The Fudge Factory is a favourite destination for both visitors and locals alike. After getting a taste of their sweet, creamy fudge, you'll be sure to want to take some home with you.