RVwest helps launch successful new RV Resort in Victoria, B.C. with effective print ad campaign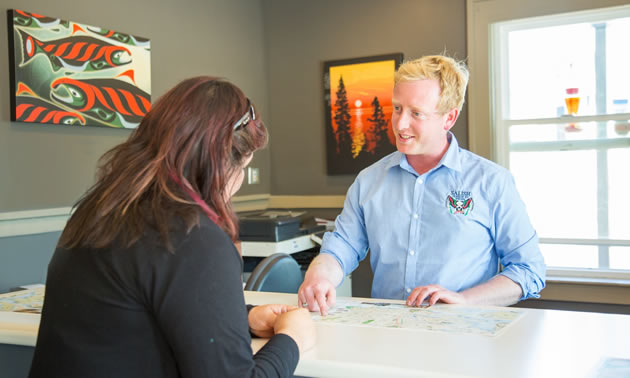 In a day and age when it is common to hear, "print ads don't work" — RVwest magazine, in conjunction with Salish Seaside RV Haven in Victoria, B.C. put the power of print to the test and proved it works — resulting in "dozens of phone calls and bookings."
The Salish Seaside RV Haven is an exciting newly re-designed RV resort in Victoria, on B.C.'s beautiful Vancouver Island. The resort has been completely redone to be truly "Big Rig Friendly". It comprises 36 pads of which all but a very few will accommodate the largest Class A motorhomes. Most sites are waterfront with spectacular views around Victoria's harbour. Tom Westley, manager of Salish Seaside RV Haven recently reported that he had, "received dozens of phone calls and bookings for the winter." Here's what Tom Westley had to say about the recent promotional campaign:
I want to thank you and the team at RV West for the recent advertisement in the summer edition promoting Salish Seaside RV Haven. Since the ad was released, we have received dozens of phone calls and bookings for the winter. I would highly recommend RV West to any other operation considering their services. Keep up the good work!
All the best,
Tom Westley, Manager, Salish Seaside RV Haven.
445 Head Street, Victoria, BC, V9A 5S1
"The only RV Park located in Victoria Harbour"
Website: https://www.salishseasidervhaven.com/
Val Bourne, marketing representative for RVwest said, "When I spoke with Tom Westley, manager of Salish Seaside RV Haven this morning, he told me that they started receiving calls immediately after the magazine was out and people were telling them they had read about the resort in RVWest and wanted information about booking a space for the fall shoulder season and/or through the winter."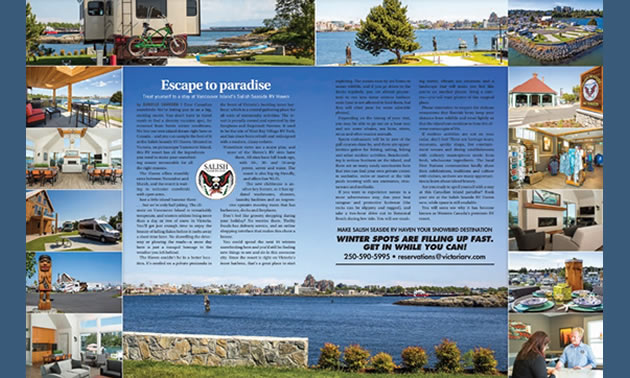 Val added, "A great success story about the effectiveness of RVWest. And Tom has said I could use this letter to send out to other advertisers and potential new sites too when sending proposals to them. And we'll be seeing more advertising from Salish Seaside RV Haven as a result of such a strong response from our readers."
RVwest magazine and website (http://www.rvwest.com) highlights destinations throughout Western Canada and sunbelt destinations across the western United States—introducing the reader to fun activities, interesting historical sites, local arts and culture, and idyllic parks—as well as the latest RV products, events and more.
Avid RVers share their stories, tips and adventures from their most memorable trips in RVwest. No other publication brand reaches as many western Canadian RVers by delivering a copy directly to them via Canada Post, a digital copy through our email newsletter or as posted on our popular website. American sunbelt resorts and destinations are reminded to reach out to western Canadian RVers and invite them to visit this winter.
For more information about RVwest and how to effectively market your RV business or product, please contact [email protected] or sales co-ordinator Amie Lubber [email protected].