Erwin Hymer Group North America, Inc. introduces new Hymer Loft edition at RVIA show in Louisville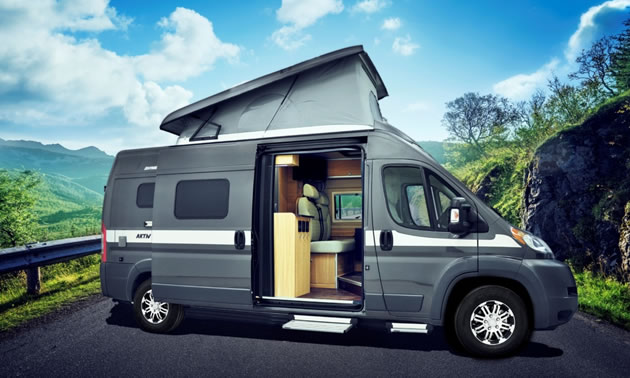 Cambridge, Ontario, CANADA – November 28, 2017 – Erwin Hymer Group North America, (EHGNA) Inc. the leading class B manufacturer in North America, showcases new models at the RVIA show in Louisville this week including the all new Hymer Loft Edition on the Aktiv 2.0.
The all new Hymer Loft Edition allows sleeping for up to 6 which is a total game changer for families looking to get into a Class B Motorhome.
The Loft edition on the Aktiv 2.0 has the great features included in the 2.0 with the extended 3500 ProMaster chassis and king size bed with thicker mattress and optional power leather sofa but with the edition of extra sleeping space in the pop top loft.
Hymer is also making a special announcement regarding the Hymer Touring travel trailer at the RVIA show for the dealers in attendance for an exclusive unveiling event in the New Year. EHGNA has had a busy year with a new Brand- Carado including two new models as well as two new models for Hymer.
Jim Hammill, President and CEO of Erwin Hymer Group North America, Inc. states "We really offer such a wide range of products that anyone could get into one of our new models and we have a lot coming down the pipeline that we are very excited about."
The EHGNA product lineup offers a variety of sizes and price points, it's easy for a full family, a couple or single traveler to get into a brand-new motorhome or trailer and start their leisure experience.
Erwin Hymer Group North America, Inc. is the leading manufacturer of class B motorhomes in North America, selling its motorhomes through a network of independent RV dealers in the USA, Canada and Japan. They are also part of Erwin Hymer Group in Germany. Erwin Hymer Group is Europe's largest manufacturer of motorhomes and caravans with a turnover of more than 1.4 billion Euros. The group sells more than 35,000 vehicles annually and employs a staff of some 4,400 in its associated companies.