Water heater stopped heating? Best solution may be to laugh and wait
RV water heater problems?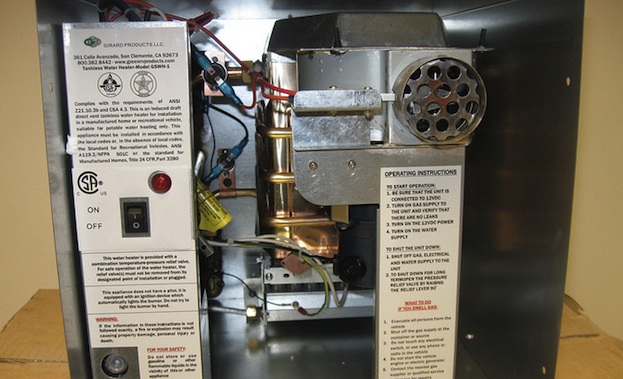 What'd I do?
There I was, minding my own business. All I'd done was get up early, shower, have a smoothie for breakfast, visit the family's office to check the mail, go for a short walk at a local park, come home for lunch … and all hell broke loose.
As I drove into the park, people came running, waving and shouting.
"You have water pouring out of your RV!"
"I turned the main water off!"
"We tried calling you at the office but you'd left!"
What had I done? Left taps running? Did the waterline burst? Is the whole place flooded?
I rushed into my fifth wheel, checked the kitchen and under-sink cabinets—all dry. Checked bathroom sink and shower—all dry. Checked the toilet—no broken valve, all dry.
What on earth were they talking about?
I went outside, where one of the park maintenance crew rushed over and watched while I turned on the mains water s-l-o-w-l-y and, sure enough, water began pouring out of the back of the rig.
The good news first
My third hot water heater was the culprit. Yes, the third in nine years, only one of which was still within warranty. This one had blown a hole in the upper right-hand of the tank rather than just dying, or failing at a connection.
Good news? I'd had my shower and done the dishes before I left. Better news, the RV wasn't flooded.
Bad news? Just weeks before, I'd dodged a $1,500-plus bill when we found I didn't need a new refrigerator —it was a wasp nest clogging the vent—only to walk into a $1,008 estimate to replace the now-defunct water heater.
This time though, instead of being ready to sit down and cry, for some reason I found the whole thing funny.
"Come on!" I laughed, "Hit me again, why don't you?" (A gal tends to talk to herself, living alone in an RV.)
Unusually for me, I decided to take the repair estimate, sit on it for a while and check to see what online prices looked like. What I needed to do was improve on the locally-available pre-tax $750 price. Labour, of course, would remain the same.
I ignored the pre-owned, "refurbished" offerings because that would likely mean inheriting someone else's problem. The other idea—to change brands—was also a no-go. Mine was a Suburban heater and the other major brand name, Atwood, would require a wider compartment than I had available.
After checking online prices in the western U.S., I found RVPartsCanada, who quoted me $730, taxes and shipping included. The downside of that choice was that the salesman warned me that shipping from Nova Scotia could take eight to 10 days. For a net savings of $110, I decided to pretend I was camping in the bush and swallow the inconvenience. After all, I had sinks, buckets and a kettle, right? Well, about that kettle…
Three weeks before, give or take, I'd finally consigned an old kettle to the recycling depot because I'd been given a great new Keurig one-cup thingamajig. Have you ever tried filling a bucket, one mug-full at a time?
Then, just as I was just beginning to think camping wasn't such a great idea, the new water heater that had been shipped on April 15 actually arrived on my doorstep on the 20th—which, I reckon, saved me three to four hundred mugs-full of Keurig hot water.
Boy! A hot shower has never felt so good.