Renting an RV—which RV model is best for you?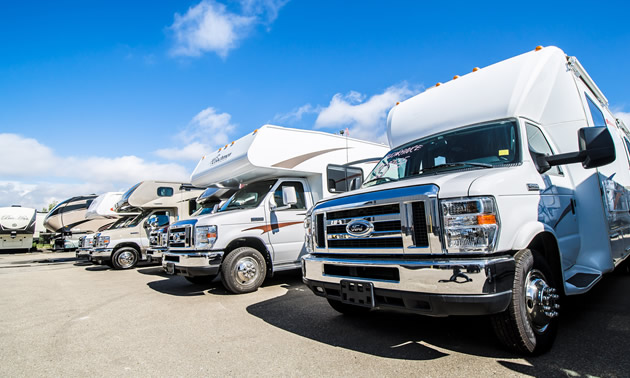 If you are planning to rent an RV, choosing the right model is critical to the success of your trip. Below are some of the items to take into account as you make your decision about which RV will be best for the trip.
The trip
Is economy essential, or will you splurge for a once-in- a-lifetime experience? Will your trip be short so confined spaces will not be a problem, or long enough you'd rather pay for more elbow room? Will you have bikes, a canoe or other sporting equipment?
The rental company
The services provided by an RV rental company are key to the service you can expect throughout the trip, so approach more than one of the better-known companies to see which one "clicks" with you.
The travelers
Are you traveling alone, or is the family going along? Are the travelers young, older, active or not so? Does anyone have special needs that make easy access for a wheelchair important? Do you need bunks for the kids, or a television for evening downtime? Those are a few thoughts to help you strike a balance between needs and wants.
The Models
Economical campers and Campervans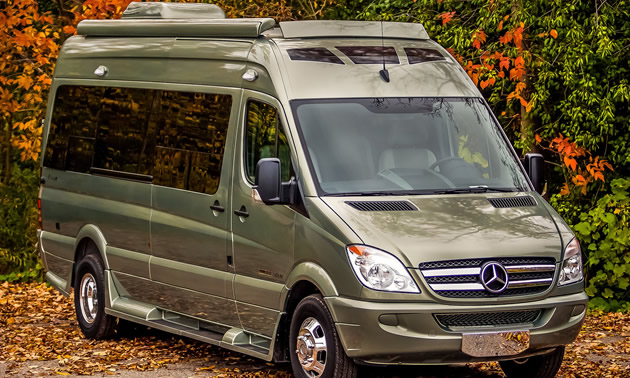 Not carried by all companies, truck campers are built over large pick-ups. Economical on fuel, they are suited to one or two travelers. Stepping up in size and known as Class B or "van conversion", campervans can accommodate three people and are likewise economical to rent and operate. They and their smaller cousins require no special driving licences or skills and have good maneuverability on twisting, hilly roads and highways. Wide-body or pop-out Class B RVs allow more interior space while still fitting within highway regulations. Thanks to their pop-up roofs, sleeping accommodation is comfortable and generous enough for a six-footer. Despite their dimensions, both types boast a small shower, toilet, 2-burner stove, microwave, furnace and gas/electric refrigerator.
As with regular SUVs or pick-ups, these RVs can tow a boat or trailer, PROVIDED total weight is appropriate to the engine.
Class C and Cab-over RVs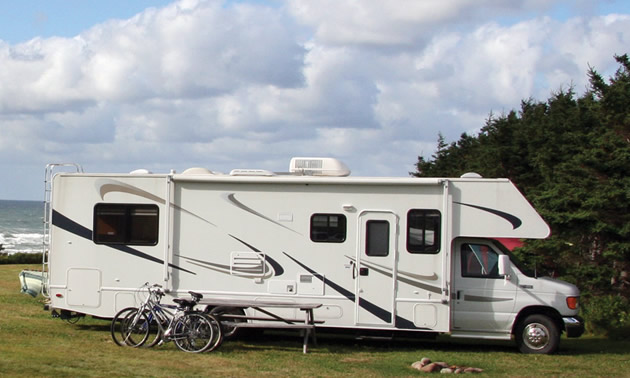 This class of RVs offers the most choice as to length, interior and storage space, as well as vehicle or boat towing. Lengths run from 19-30+ feet and slide-outs vary from one to three. Interior kitchen and bathroom space increases exponentially with size of the RV. Stoves have 3-burners and come with an oven and refrigerators have freezing compartments.
Televisions and fireplaces can be enjoyed in many living rooms and computers can be connected where RV park hook-ups allow. Sleeping accommodations are far more generous than those in campervans, which means Class C RVs allow groups as large as 7-9 to travel together.
Class A motorhomes
The prince of all choices – not routinely offered by many rental companies – Class A motorhomes are larger and more luxurious in all respects than their smaller RV cousins. The main consideration before renting these bus-size motorhomes is that many, if not all, Canadian jurisdictions require the driver and his/her back-up driver to have a Class 4 or 5 driver's licence if the vehicle – and its contents – weighs over 4,600 Kgs.
Whatever the RV, diesel-powered options and patient driving are always easier on fuel costs.
Some words of caution
Driving skills and adaptability are serious considerations that increase with the size of Class A motorhomes and Class C RVs. The 'feel' of these vehicles is very different than most drivers have known. High-winds can slam the RV unexpectedly and RV braking, and twisting or narrow roads and long hills can all be a challenge for the best of drivers, especially on wet or slippery roads. So much so, that most rental companies review these differences and suggest renters try out the vehicle with a company rep on board before setting out on the trip.