One couple's story of the first year in their new trailer
The transition from tent to trailer was easy for the Hornetts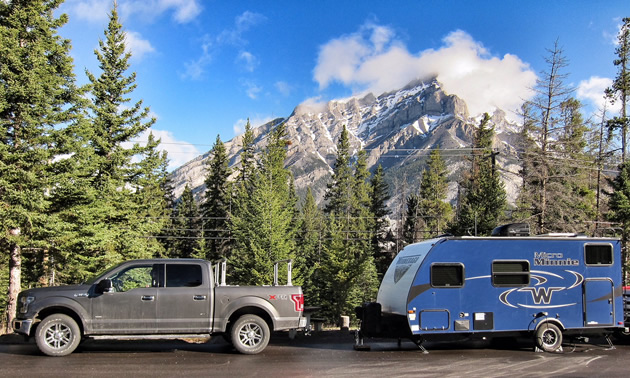 We should all be so well blessed to have good friends––especially when those friendships span several decades. In the mid-80s my wife and I, along with our newborn son, camped with our new friends the Hornetts in Gros Morne National Park on the west coast of Newfoundland. Now we live in Alberta, and we still camp together.
A year ago, just before the snow flew, Peter and Annie Hornett took delivery of their new trailer. This was the year they left the tent behind to jump feet-first into a full year of trailer travel camping. Here is what the Hornetts had to say about transitioning from a tent to a trailer, where they went and what they experienced in that first year.
What happened that led you to purchase a trailer?
I had been thinking about this for more than two years. Annie was a diehard tent camper and had some reservations. A number of factors were significant in the final decision:
We camped with friends who had extensive experience with trailer camping;
We had several wet tent pack-ups and take-downs in close succession;
There are predatory wildlife in proximity to Alberta and B.C. parks;
We're not getting any younger, and after 35 years of tent camping, it was getting much harder for me to get a good night's rest sleeping on a pad on the ground; and
I witnessed a couple arriving in an R-Pod at a campsite adjacent to mine in a B.C. park. I was trying to hammer tent pegs into an unyielding gravel pad. The R-Pod couple was set up and cooking supper after 20 minutes. Meanwhile, I was still trying to hammer pegs while surveying my bloodied hands. The decision was made to proceed with a trailer purchase!
What options did you consider before landing on a towable?
We considered everything except Class A and fifth wheels—they would have been too big a leap from the tent camping that we were familiar with. I already had an F150 truck so it was not difficult to decide on a towable that was within the capacity of the vehicle I already owned.
We did seriously consider an R-Pod or equivalent. However, close inspection showed that these did not necessarily offer the storage and living arrangements we were seeking. Class B RVs were a serious contender. But I need my truck for other activities, such as hunting, and the towable won out. Our final decision was a Winnebago Micro Minnie 1700 B.H. (Bunk Model); this option best fulfilled our needs.
Where have you been in the first year of serious trailering?
A lot of places: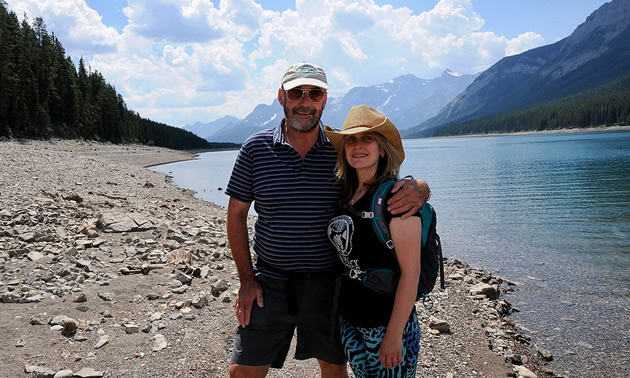 We did a three-day trial run with good friends experienced in RV camping at Tunnel Mountain in Banff National Park;
We camped in Carson-Pegasus Provincial Park in Whitecourt, Alberta, for a hunting trip;
We took a one-week fishing trip to Lac la Biche, Alberta, with friends;
We stayed in Boulton Creek Campground in Kananaskis Country for four nights with our daughter, Ellen, who was visiting from Newfoundland;
We travelled for three weeks in British Columbia on a 2,700-kilometre round trip from Canmore, Alberta.
What has changed in how you camp?
There is still a lot about tent camping that appeals—you are very close to the environment. However, comfort and security are significantly increased with the trailer. Sleeping is more comfortable for me, and adverse weather presents less of a challenge when thinking about cooking and eating—there is always shelter.
Travelling with the trailer is more exacting than just packing up the tent and throwing it in the truck. There is a learning curve to towing a trailer. It's certainly not insurmountable though.
It's a lot of fun to travel with friends. Our family is widely dispersed across Canada. The trailer has enabled them to camp with us or for us to visit them while we were in their vicinity.
What did you learn this first year?
Where to start with this one? I learned so much: towing and parking skills, RV operation, maintenance, 120/12V systems, LP gas, winterization . . . the list goes on. I would say, though, that having an experienced buddy makes a huge difference as nothing else matches advice from a friend (or family member) whom you trust.
Costs are significant, though. Certainly, it is cheaper to camp with a tent. If budget is a major factor, we would still say that you can have enormous fun at low cost under canvas.
How do you deal with changing temperatures since converting to trailering?
Warm temperature conversion is not a big deal. Cold temperatures are different. We have camped in sub-zero in our tent and just made provision for warmer clothing and sleeping bags.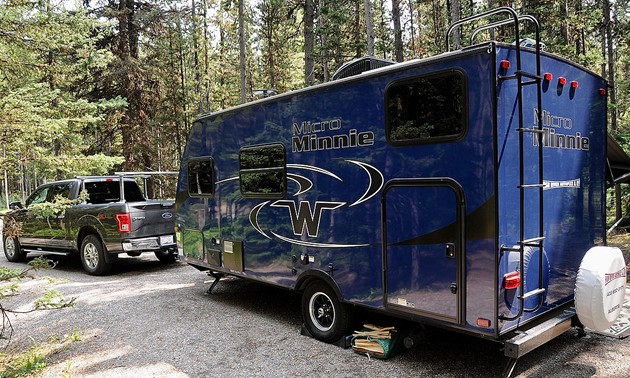 With RV camping there is the consistent need to consider water systems and winterization if you want to extend your camping to the shoulder seasons.
There are enormous advantages having the trailer in wet conditions––a point we have repeatedly remarked on over the past year whilst observing tenting neighbours huddled under their tarps as a deluge continues. We've been there, done that!
What would you do differently if you were to do it over?
Not much. We had done lots of research before embarking on the current adventure. However, I may have opted for a double-axle trailer had I had more confidence in my ability to tow a slightly longer RV. This would have likely given us more flexibility in load options and probably would not have been significantly more difficult in terms of learning towing skills. Annie, though, said she would definitely not have wanted to go to a bigger RV as her first conversion from a tent.
What advice do you have for folks ready to leave the tent and move to a trailer?
The advice we have is to do your research carefully. Much of this can be done online, and many of the options that best suit your perceived needs can be identified prior to visiting dealers.
There is no substitute for physically viewing all the RVs on your shortlist. Take your time to inspect the units thoroughly. You will identify features you cannot live with and others you love. There is unlikely to be a perfect match for all your expectations, but with effort you will find the best solution. Don't rush the search and you will realize the benefits of your diligence when you are finally enjoying camping and travelling with your new RV.
What's next?
More exploration of Alberta, Saskatchewan and the Pacific Northwest in general. Alaska is a particular goal that we are targeting within the next one to two years.