A tour of the BC Interior RV Show in Penticton
RV shows are a good resource for information on the RV lifestyle.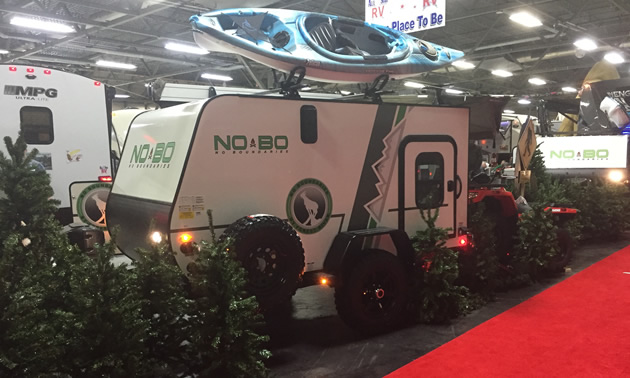 At the end of April I enjoyed attending the BC Interior RV Show in Penticton and was amazed by the number of RVs on display and the variety of information available for the beginning RVer as well as for the more experienced.
For a very small entrance fee of $5 I had access to everything for three days, which gave me plenty of time to explore and talk to people. What really stood out to me was the amount of information available just for the asking.
Seminars about the RV lifestyle
There seminars that taught about propane safety, RV plumbing, how to customize an RV and some very good tips on packing your RV and setting it up in a campground. There was information for snowbirds on the ins and outs of travel medical coverage. For those who were interested or were perhaps apprehensive about travelling to Alaska, RVWest contributor Duane Pilson provided reassurance and information on what the highways are like, where the campgrounds are, some of the highlights and even how to deal with the insects.
Factory representatives
Where else can you get many of the large RV manufacturers' representatives under one roof? An RV show is perfect for tire kicking and asking questions about different types of RVs and their features. Plus it's always fun to drool over a coach that is in excess of half a million dollars. I overheard one fellow say to his friend "I found the coach I want and it's only $550,000. It's too bad I`m $500,000 short."
RV clubs and parks
One of the best ways to get involved in the RV lifestyle is to join a club or become a member or strata owner in an RV park. Anyone who is serious about RVing or camping should check out some of the RV clubs available, because there are clubs for almost every interest, including specialty clubs for owners of different types of RVs. Quite often representatives of the clubs will have a booth at the RV shows and the one in Penticton was no exception. I spoke with a woman from the Newmar owners' group and had a laugh because I couldn't join—since we don't own a Newmar. There are other clubs I could join, though, and some of those include Good Sam, Explorer RV Club and the Recreational Vehicle Owners Association of BC.
RVs for sale
There are, of course, many RVs for sale at an RV show, and that's probably the main purpose of the shows. The latest, greatest and biggest RVs are on display for visitors to browse through and see all the latest gadgets and features they offer. However, there are also used RVs on display or at least their information can be found on bulletin boards at some of the dealers' booths. Not everyone is in the market for a brand new unit, but a good used one might be perfect.
So the next time you hear of an RV show in your area or close by, attend even if you aren't shopping for a new RV. There's always something new to see or some helpful information that may make your next trip in your RV even more fun and possibly safer.