2,800 nights on the road; 180,000 kilometres driven and the same wife for 50 years
Earl Andrusiak: Average Canadian luddite and RV aficionado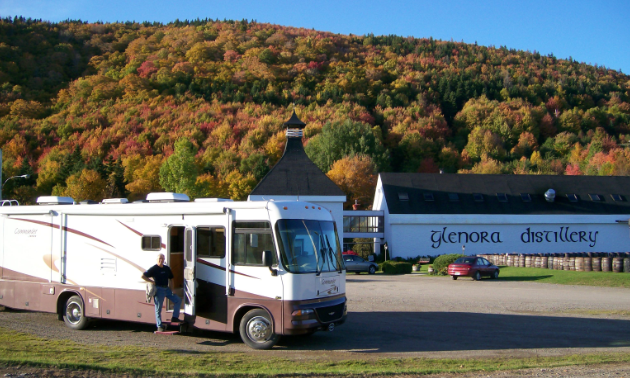 Most world travellers aren't from rural Manitoba, especially if they've never ventured more than 50 clicks outside of their hometown by their 18th birthday. Despite getting a late start at the exploration game, Earl Andrusiak more than made up for his lack of travels once he got going.
He and his wife, Liz, have crossed 48 states and nine provinces multiple times in their RV, accruing over 180,000 kilometres and 2,800 nights in the vehicle together. Andrusiak's ride is a 2004 36-foot Triple E Commander MH on a workhorse chassis with two slides and nearly every available option.
"When I was getting ready for retirement, I thought, 'I might as well buy a brand new vehicle that can get us through all these states and provinces," Andrusiak said. "I didn't want to get a used one or pull-type; I wanted an actual Class A motorhome. So we picked it up at the factory and it's been a charm."
For 13 years Andrusiak has been driving that RV cross-country through Canada and the U.S. Prior to that, he had a tent trailer, tent and pull-type trailer, but never a motorhome. Since his acquisition of the motorhome, his home base has been established in Indio, California, where he has a home and a lot at an outdoor resort.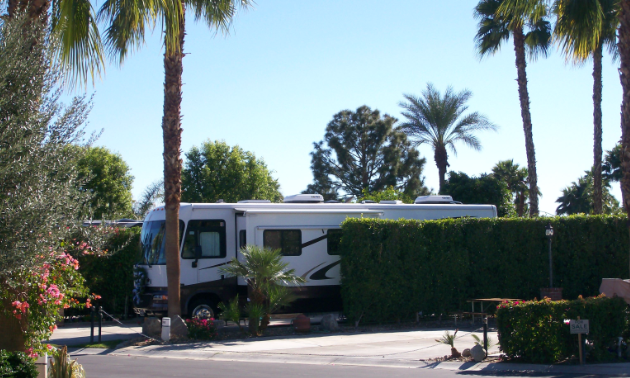 Travelling companion
Andrusiak and his wife have been married for a whopping 50 years. He claims the secret to living happily with someone for some long is to give each other their own space. "She likes art and painting; I like theatre and golfing," he said. "I'm doing one thing; she's doing something else. That doesn't work so well in the motorhome, but we compromise."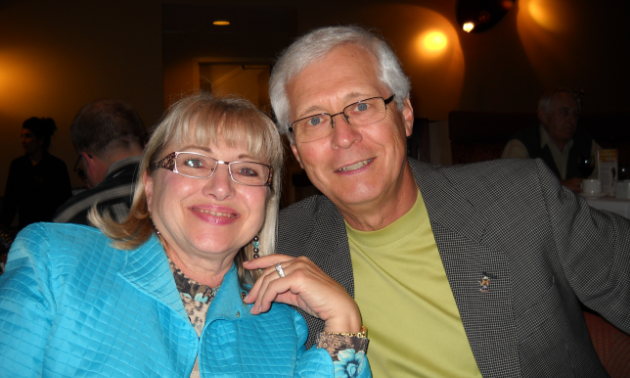 Before retirement, Andrusiak spent 40-plus years in banking. He ended up being vice president of a large bank in Canada, which gave him access to a plethora of AeroPoints. The points afforded Andrusiak the opportunity to fly across the world with his wife and two sons, including a family vacation that made stops in every capital city in Canada. From there, he's done Disneyland and cruises and stayed in some of the most prestigious destinations on Earth. But it's lesser known locations that are his favourites, such as Glenora Distillery on Cape Breton Island in Nova Scotia.
"We boondocked on their property one night," he said. "Beautiful stars, beautiful leaves and there wasn't a sound all night. It was heaven. I've stayed in the number one hotel in the world in Bangkok, Thailand, and I've stayed in the Marriott in Times Square. None of that comes even close to the night at the distillery."
Growing up in hard times
His career in banking gave Andrusiak freedom to enjoy the finer things in life, but it wasn't always that way. "I was born on a poverty-stricken farm," he said. "We lived in a log house without central heating or plumbing or even a phone. My father determined that before I left home we would go on one vacation. We never had a vacation in our lives.
"We bought a new car, the cheapest Chev you could get—with no air conditioning or even a radio—and headed off to California. It was in July, which is hot down there. We lived and slept in the car for two weeks: Dad on the front seat, Mom in the back and me—you guessed it—in the trunk! A lot of people would say that was a big hardship, but I was thrilled to be able to see the wonderful state parks and the grandeur of the western states. It was an eye-opening experience. I was hooked on travel."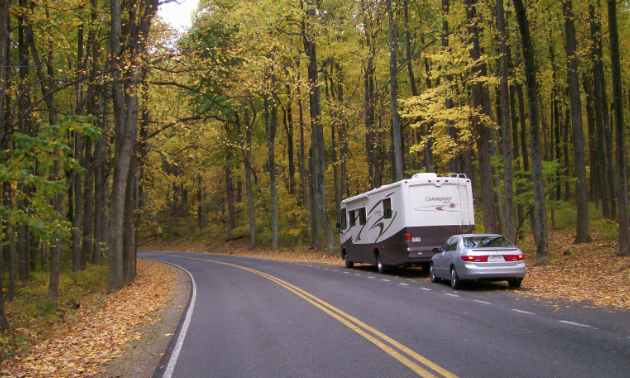 Speaking in tongues
Andrusiak's vocabulary is filled with adopted sailing terms to describe his RVing philosophy. "We tow a dinghy—a 2005 Honda Accord—and 'old around.' It's like gunk-holing, which is when you crawl into every nook and cranny and 'thumblebum' your way along rather than just shoot for a destination. 'Hey, there's a nice brook with a bridge.' We'll stop and pull out the lawn chairs—just living for the moment."
That kind of language accurately describes Andrusiak's personality. His business card comes complete with the same creativity he uses in his speech, describing himself as an "Average Canadian Luddite."
"People take themselves too seriously," he said. "Many Americans say they're the greatest, so I made my business card to say 'I'm average.' "
If Andrusiak ever decides to come out of retirement, another job would be readily available to him. "Most people rely on me to give them advice on where to stay away from or what not to miss," he said. "It's too bad I'm getting up in age—I could've started a travel agency, ha ha."