Cleaning your RV blinds gets easier
How to quickly and easily clean your RV shades
by Kimberly Shellborn —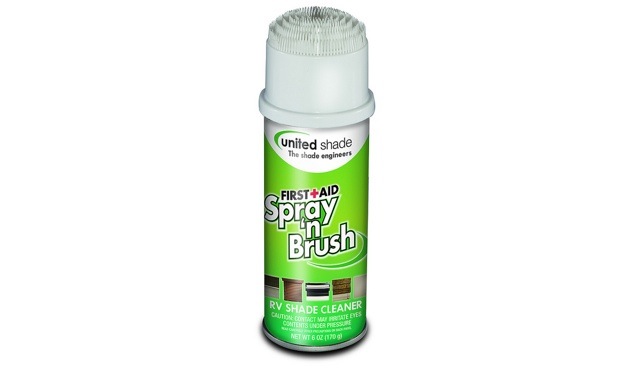 Ever wondered how to clean your RV window coverings? Vibration, dust, and humidity can turn your blinds grimy and dirty. United Shade Spray 'n Brush is described as first aid for shades. The cleaner uses an advanced formula that breaks the chemical bond between soil and fabrics. A built-in brush can be used to remove tough stains. It's easy to re-spray and brush again.
United Shade engineers RV-ready shades designed to take the abuse of outdoor living. Whether it's roller, aluminum, pleated, cellular, roman, wood, powered or manual, the engineers of United Shade have got you covered.
Don't spend time and energy cleaning your blinds. United Shade Spray 'n Brush will quickly clean your blinds so you can spend time doing what you really love: RVing.
For more information about United Shade and its RV products, see unitedshade.com