Keep protected from the sun or rain with a shade shelter
Get more protection from the sun or rain
by Kimberly Shellborn —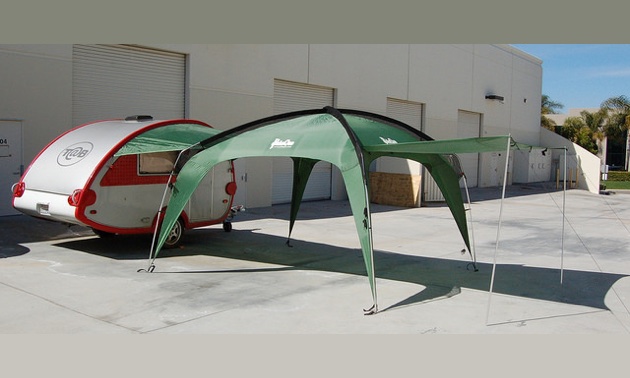 Shade shelters give you shelter from the sun, rain and other elements you might encounter while camping.
The Cottonwood XLT offers two extendable awnings to give you more protection. The awnings can be easily be extended to give you a larger shelter, lowered to block out either wind or rain, or to provide extra shade. The awnings can simply be rolled up when you don't need them, or can be attached to a vehicle roof rack or your trailer's awning track.
The shade shelters are made of polyester fiber with1500 mm waterproof coating, to keep everything under it dry.
Features
Packs down to an ultra compact size 10 by 30 inches when rolled
Fits easily into its heavy duty, oversized carry bag with built-in adjustable shoulder strap
Ingenious design utilizes high-performance, lightweight aluminum tent poles
Light rain showers are no problem—roof material is polyester fiber with 1500 mm waterproof coating
Easy to set up and take down
Add the optional sidewalls to enclose three or all four sides.
Specifications
Floor size: 10 feet by 10 feet
Inside height at peak: eight feet
Height of side walls: five feet, eight inches
Weight: 19 pounds
Pole diameter: 19 mm (3/4 inch)
Materials
Roof: 150D polyester oxford, with heavy-duty waterproofing and UV coatings
Poles: High performance, 100 per cent aluminum 6061 series alloy, shock-corded.
Sun Protection Factor: 50-plus
For more information about this awning, go to www.pahaque.com.