The Parksville chef loves sharing her passion
She's a chef, pastry chef, cookbook author and cooking instructor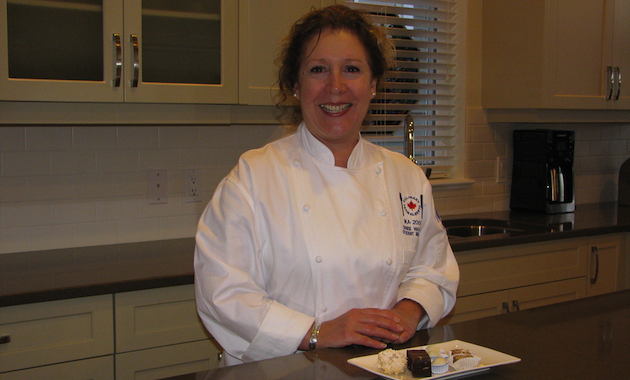 Chef Denise Paré-Watson and her banker husband, Harold, retired from Calgary, Alberta, to Craig Bay in Parksville and absolutely love it.
"This community of 426 homes is the most amazing community we have ever lived in," said Paré-Watson. "We lived in many communities with my husband's bank transfers. This community is so unique, with people from all walks of life and all kinds of professions and they are quite intrigued about my being both a chef and a pastry chef. That has definitely influenced what I am doing."
How it all started
When she retired, Paré-Watson had no definitive plans except one thing.
"I did want to write a cookbook when I retired—which I did—and it grew from there," she said. "We would invite our neighbours in for tastings to obtain feedback for the book and it just exploded."
People became extremely excited and started asking her if she could teach them how to cook, if she could run classes or cater a little dinner.
From that one cookbook, Paré-Watson is now building courses, writing books, developing recipes, teaching and working as a chef and pastry chef through her business, Urb'n'spice.
"I do offer classes," she said, "and they are gaining so much in popularity that I must admit semi-retirement seems a bit of a way off yet!"
As a child, Paré-Watson and her family always had a market garden, so there was always lovely, fresh produce and fruit trees. She learned to do canning at a very young age and she now produces jams, chutneys and other gourmet items to sell at local special events.
"The community has embraced what I am doing and they are amazing," she said. "They will come all year round for replenishments. It has been just lovely being here."
The cooking classes are held in Paré-Watson's kitchen—with her husband helping her—and from all indications they are a lot of fun. Harold calls himself "the kitchen rat."
Career choice
Desiring to make a change in her life, in 1999 Paré-Watson attended the very intense one-year chef-training program at Southern Alberta Institute of Technology. As the top student in her class, she received a scholarship so was able to continue her training and added pastry chef to her accomplishments. The decision to take time off from work and train to be a chef has notably changed the direction of her life and she has never looked back.
Paré-Watson has written a series of books called Chocolate Desserts Made Easy and Delicious and plans to release more cookbooks in the future.