The mecca of modernism has a cache of delightful sights to survey
3 for 1: Palm Springs' Indian Canyons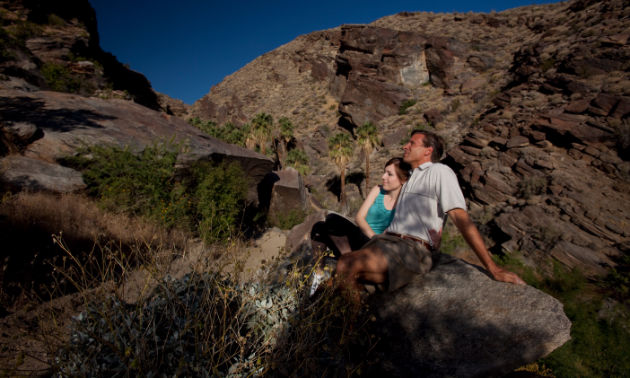 Palm Springs is full of hidden gems and you don't even need to look that hard to find them.
If you want to uncover Palm Springs' natural beauty, explore Indian Canyons. Inside, you'll find:
Palm Canyon: "Palm Canyon's indigenous flora and fauna are breathtaking contrasts to the stark rocky gorges and barren desert lands beyond," said Randy Garner, public relations manager of the Palm Springs Bureau of Tourism. Palm Canyon is 24 kilometres (15 miles) long and has a moderately graded foot path that winds down into the canyon for picnicking near the stream, meditation, exploring, hiking or horseback riding. Palm Canyon also has a trading post where you can pick up hiking maps, refreshments, Indian art and artifacts, books, jewelry, pottery, baskets, weaving and conversational cultural lore.
Andreas Canyon: "The contrasting greens of the magnificent fan palms and more than 150 species of plants within a half-mile radius beckon the desert-weary traveler to this lush oasis," Garner said. "This tranquil setting is excellent for photography, bird-watching, or a picnic at one of the tables along the trail." A scenic foot trail leads through the canyon passing groves of palms, unusual rock formations, bedrock mortars and metates used centuries ago for preparing food, and the perennial Andreas Creek.
Murray Canyon: "Murray Canyon has its own secluded beauty," said Garner. "Fortunate visitors may catch a glimpse of a Peninsular bighorn sheep (an endangered species), mule deer or other wild animals still roaming the high ground above the canyon. The endangered Least Bell's Vireo bird is also known to nest here."
If you'd like to do something a bit more contemporary, Palm Springs has you covered.
Palm Springs has the world's largest concentration of mid-century modern architecture and is known as the mecca of modernism. The city has claimed the distinctive era of modernism as its style brand, whether it be architecture, interior design or fashion. Palm Springs hosts an annual Modernism Show & Sale that is part of Modernism Week—an international cultural phenomenon that attracts nearly 100,000 people every February. There are also a number of architecture tours available all year.
Palm Springs might just be the most modern and geographically stunning location on the planet.