Thank you BC campers for a great summer and a toast to fall camping
Summer camping ends but fall fun begins—enjoy a Camping Appreciation weekend, September 11th to 12th at over 45 campgrounds in B.C.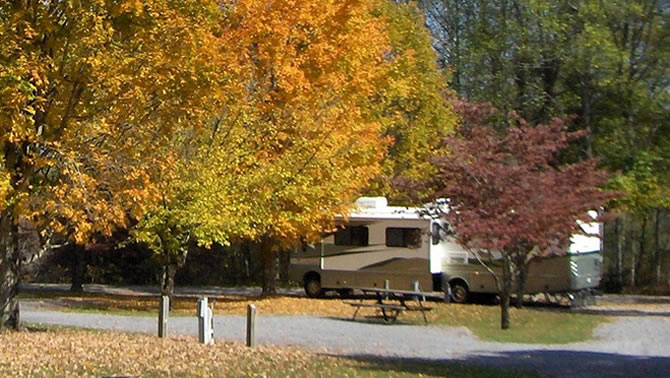 Vancouver, BC, September 10, 2015 - As summer holidays come to a close, Tupperware bins are getting ready to be stowed away, filled with neatly stacked and organized camping gear. Soon the 2015 summer camping trip becomes a heart-etched memory. But what if camping this year doesn't need to end? What would that look like? Fresh autumn air filling your lungs, dancing eyes entertained by a swirling plethora of fall colours. The truth is, fall camping is an undiscovered gem most people don't think to experience!
Over 45 private campgrounds in British Columbia have rallied together to offer a Camping Appreciation Weekend. Its purpose is to say thank you for camping in BC and to encourage campers to enjoy a fall experience. On September 11-12, participating campgrounds are offering a two-night stay for $50 + tax. http://www.campingrvbc.com/camping-appreciation-weekend/.
According to a recent study in 2014, released by the Canadian Camping and RV Council (CCRVC) 662,260 people camped in British Columbia. The province's economy relies on the camping industry contributing $606 million dollars to the GDP and provides over 7,500 jobs generating $137 million in sales and income tax.
Coalition Chair, Joss Penny states, "I am thrilled to launch the first ever Camping Appreciation Weekend in British Columbia, our way to say a sincere thank you for the patronage from thousands of campers this summer season. Camping is an activity that promotes a sense of community, creates life-long memories and allows people to engage with nature, while enjoying some of the most beautiful landscapes that British Columbia's has to offer. This fall I encourage British Columbians to celebrate the camping and RVing lifestyle."
Fall Fun Facts:
Depending on the region in BC, the average number of days of sunshine for September and October are 21-29.
Fall campground occupancy decreases by approximately 60% when compared to the summer months, allowing opportunity to find your perfect site.
Say goodbye to pesky bugs, their season has ended!
Campfire bans are lifted, enjoy a fire to warm the cooler evenings.
Bucket List Fall Camping Trips
Okanagan Harvest Trip- A must-do fall destination. Visit famous fall wine festivals and luscious ripe fruit-filled orchards. Be sure to include in your trip itinerary a visit to Davison Orchard for the apple tasting and maple pumpkin butter ice-cream. Enjoy quiet campgrounds framed by nature's stunning landscape. Sit by a warm fire sipping your hot apple cider and eating your pumpkin pie to the crackling cacophony of swirling colourful leaves. Find nearby campgrounds at http://www.campingrvbc.com/camping/.
Fishing trip - Cooler temperatures in the fall mean the fish are fattening up for winter, making for an easier catch and a tastier meal. Also, there are less boaters and swimmers in the water, so anglers can sit back and enjoy the spectacular autumn scenery as they tempt the "big one" to bite. http://www.gofishbc.com/