Fort St. John: the Energetic City has a vibrant art scene
Visitors are welcome to join artist workshops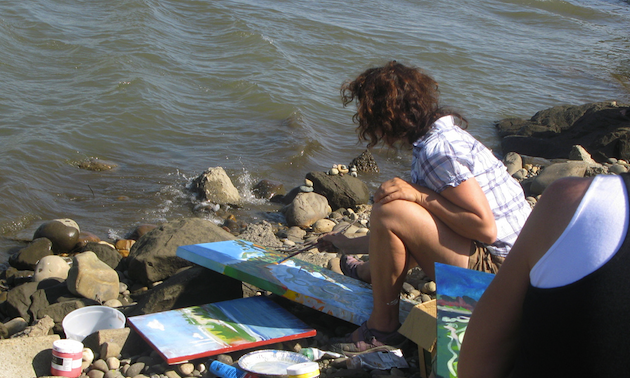 Sandy Troudt, a painter, mixed media artist and educator in Fort St. John, said an art scene she can only describe as "vibrant" occupies a high-profile niche in the community, with well-attended events and a high calibre of classes for all abilities.
"I'm talking about the whole thing—music, visual arts, dance, and theatre," she said. "There is a nice balance between the arts and things like hockey and skating that any northern town is known for. I feel we offer something for everyone."
Cultural Centre
The city's North Peace Cultural Centre is the perfect launching point for artistic pursuits, hosting the Peace Gallery North, performance space for theatre and dance and a public library under the same roof.
The Cultural Centre celebrates its 20th year in 2013, and the arts community is busily preparing for three weeks of commemorative artistic endeavours in June. A studio tour and an anniversary Art Walk will feature local work in watercolours, acrylics and a host of other mediums, and a small print-making society will host an event similar to its annual Print Making Marathon held in April.
Theatrical and dance performances, exhibits and hands-on demonstrations will round out a diverse and engaging roster of celebratory events sure to soothe just about any artistic yearning.
Oliver Hachmeister, technical director for the Cultural Centre, said the local middle school will be performing Seussical the Musical, a family-oriented event based on Dr. Seuss's crazy tales.
"We've got some dance productions in ballet, tap, jazz, hip-hop and polylyrical by both recreational and competitive troupes," he said. "We'll finish with a gala on June 21 featuring both local and professional artists, musical performers and dance."
Between 12 yearly professional performances and activity from three local dance studios and Fort St. John's theatre troupe Theatre North, the 400-seat facility hosts a production about 250 days of the year, said Hackmeister.
Gallery society
The Peace Arts Gallery Society supports arts programming and other events in Fort St. John including the 13th Annual Chocolate Festival—"The happiest night in the north," said Troudt—held the Saturday before Valentine's Day each year.
Flying Colours Artists' Association offers professionally-run classes and hosts an art auction on the last Saturday in April, with the funds going towards art programming for children.
In fact, art classes are a big draw for locals and travellers, as they are offered with professional accredited artists over several weeks or just for the day.
"We have people just beginning their artistic journeys and professionals," said Troudt. "We are very welcoming to travellers and groups, bringing in professional workshops in an environment where no one is afraid to attend. The opportunities for learning are incredible."
Troudt came to Fort St. John with her husband in 1974, intending to stay a year. "We kind of fell in love," she said. "The area is so beautiful and the wilderness calls to us."
The contrast between wilderness and "land that has been tamed' is a key inspiration for Troudt and many other local artists, she said.
"I am really touched by the lives of early pioneers in the late 30s, how they lived and how they tamed the wilderness to make a living," she said. "You can see old, weathered granaries and barns dotting the landscape and understand their place in the scope of North America."