The Big Valley Jamboree 2019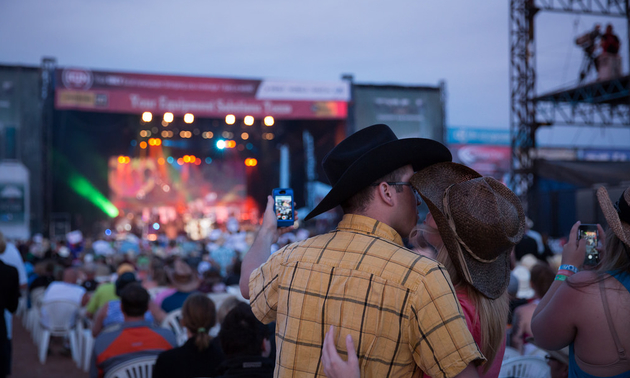 When: August 1 - 4, 2019
Where: Camrose, Alberta
The Big Valley Jamboree (BVJ) has been a part of Camrose for decades, and this year's event is amping up to be the best yet.
Here are 10 reasons you won't want to miss the Big Valley Jamboree.
1.) Top country music artists will be there
First and foremost, the BVJ is all about the music. The line-up includes: Toby Keith, Brooks & Dunn, Old Dominion, Kane Brown and other talented performers. With top-name artists like these, you can't afford to skip this year's event.
2.) It has a rich history
This festival is a crowd favourite every summer.
It came to Camrose after several attempts to hold the BVJ in other locations. The Camrose Regional Exhibition (CRE) was preparing to bring back its annual summer fair, when the BVJ promoters approached the organizers with an even better idea. They wanted to bring top national and international country musicians to this pleasant community, and the CRE granted them the facility and services to accommodate the event. The rest is history!
3.) There will be on-site camping available
The BVJ organizers will be opening the gates to an excellent on-site campground.
All sites are sold on a first-come, first-served basis and based on double occupancy (so for each two admissions purchased, you can reserve one campsite). You may also purchase a secondary vehicle pass if you need to.
There are no serviced sites.
4.) You can shop at the Marketplace Tradeshow
At the BVJ Marketplace Tradeshow, an array of vendors will be selling all sorts of one-of-a-kind crafts and merchandise.
5.) You can get autographs from your favourite artists
Stop by the autograph tent for a chance at an autograph and photo with one of the BVJ artists.
Keep your ears open and listen to the main stage announcements to find out when your favourite country stars will be available.
6.) The Production World Songwriter's Workshop will expand your horizons
Situated on Main Street, this workshop grants an opportunity to learn about the songwriting process, and the meaning behind some current and past hits.
7.) The BVJ Parade is coming to town
Held in downtown Camrose, the annual BVJ Parade will bring a smile to your face, with a variety of entertainers, floats and colourful characters.
8.) Three words: Extreme freestyle motocross
On the south side of the Marketplace Tradeshow, you can watch impressive motocross stunts that you'll never forget. See jumps and tricks that most would never dare to attempt at this annual highlight.
9.) Adult refreshments are available
The Jim Beam Backroom Bar will be there to assist if you want to grab a cold one during the show. Head to the back of the main stage concert bowl, relax and watch the performers on a big screen while you enjoy a pint.
10.) You can show off your musical skill
There will be a karaoke contest on the BVJ grounds, as well. Sing your heart out and compete with other music-lovers to win the top prize.
For more information, visit the Big Valley Jamboree website.