BC Interior RV Show
This fantastic RV show will be held at the Penticton Trade & Convention Centre and the South Okanagan Events Centre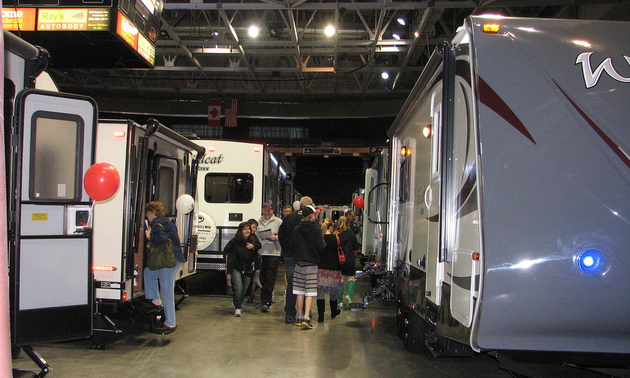 When: April 5 - 7, 2019
Where: Penticton, B.C.
This fantastic RV show will be held at the Penticton Trade & Convention Centre and the South Okanagan Events Centre at 853 Eckhardt Avenue West in Penticton, B.C.
Top five reasons to attend the BC Interior RV Show
1. An array of exhibitors
This year's show will include an impressive roster of exhibitors, who are eagerly awaiting to showcase their latest products and services.
Check the online exhibitor list to see if your favourite company will be represented.
2. You might find your ideal unit
You may not plan to make a purchase at the show, but it's also possible that your perfect RV unit is waiting there for you! Vendors often offer their best deals and promotions to show attendees, so you'll definitely be in the right place at the right time, if you're looking to make a purchase.
3. It's an impressive venue
The event site is huge, boasting more than 80,000 square feet of interior floor space.
You will be able to peruse all the latest units and attend educational seminars and workshops that will be hosted daily during the show.
4. Affordable admission and support for a great cause
The cost of admission is only five dollars for an adult, and that covers an entire weekend of fun. Children under 15 are admitted for free with the purchase of an adult wristband.
Be sure to bring a non-perishable food item along with your admission payment, as these (along with the event's net proceeds) will be donated to charity.
5. Excellent accommodations are close by
You can find outstanding RV parks and other accommodation options within a short distance from the show venue.
The website offers a handy list of campgrounds where you can stay, along with information about the amenities available.
Show hours
Friday: 12 noon - 9 p.m.
Saturday: 10 a.m. - 7 p.m.
Sunday: 10 a.m. - 4 p.m.
Admission
Adult: $5 weekend wristband, bring a non-perishable food item
Kids under 15: Free with adult admission
Wristband available on-site but cash only
For more information, visit the show website.