Meet Phil Turgeon, owner of Carefree RV in Edmonton
This RV entrepreneur answered some questions about the industry, the RVDA show and how he got started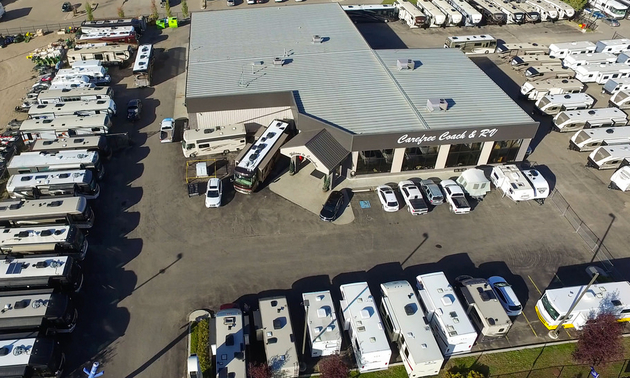 Phil Turgeon, owner of Carefree RV in Edmonton said, "the name Carefree came out of a conversation at Baba's house when he and the other partners were discussing what they wanted their customers to experience. They landed on Carefree RV and that concept underpins their business philosophy."
"Baba used to take us camping. I remember crawling up into the bunk," said Tania Maura, marketing manager and finance at Carefree RV.
"Camping is important to our family and we want to pass it onto our kids. Building family is connecting with kids," said Turgeon.
Turgeon sees an uptick in Canadian born children of immigrants now embracing the lifestyle of camping. He notes a keen interest in the 26-foot and under motorized units and he's a bit surprised by the bright and vivid colors of this year's model offerings. Look for more variety and selection of outdoor kitchens, more LED light colors, better quality aluminum steps. He said more people are traveling by SUV and manufactures have responded with a variety of SUV-towable units.
Here is what Phil Turgeon has to say about the Edmonton RVDA Show:
What in particular is carefree RV showing this year they're most proud of?
We are proud of our partnership of the Edmonton Eskimos. It helps us to give back to the community. Show attendees will see the Eskimos Trailer giveaway. It's a Micro Minnie Winnebago all decked out with Eskimos and reverse draw is in September. (A reverse draw is where the winning ticket is the last to get selected.)
We are proud of our full line of Winnebago towable and motorized coaches. Attendees will see the new 2018 Grand Tour, an exquisite Class A Diesel Motorhome that is very luxurious. We also have many ultra-lite trailers for young families that have bunk beds and convenient outside kitchens. We think about our primary customer and with that in mind, we buy high quality trailers and fifth wheels for every type of family, so they can experience their Home Away from Home.
What advice do you have for RVDA show attendees?
Be open-minded. Have an idea of what you and your family needs before coming to the show. Think of the first camping trip you are about to go on and find the right RV to suit your budget, so you can feel Carefree.
Find an RV dealer that is similar to your own values (ask yourself: do I feel no pressure coming into the dealership; am I able to walk around freely without feeling like I have to buy today?) It is important to not stress about whether or not I can afford the RV but more importantly, getting excited of how many awesome and great memories you will have with your RV and family and being realistic with one's payments and terms.
What is carefree RV focused on for 2018?
We are focused on ensuring we continue to provide customer service excellence, which means when someone walks through the door, we service them with a smile and a no-pressure sales approach. This is why we have a really high customer referral program. Our customers love talking about their positive experiences. And we are really grateful for that. PLUS... Our knowledgeable sales, service and parts staff continue to receive product training to ensure we stay current on all model lines which helps our customer make educated decisions based on the love for RVing and camping. When our staff are happy, our customers are happy!
We continue to focus on our processes, so our customers feel welcomed and followed up in every way.
We will continue to focus on communicating new RV Resources such as which campsites are the best to go to and things like: various Camping Recipes and Sani Dumps so they can experience a feeling of "Carefree" with their families.
It is not all about our Winnebago or other RV products, it's about helping our customers feel at home when camping, finding the perfect RV for their needs, ensuring its affordable for them and feeling they can always ask questions if they are new to RVing.
Lastly, our relationships with our partners like Edmonton Eskimos and RVDA, plus RVwest magazine help our customers know we really care about their family's overall experience - we provide a lot of "Family Fun" throughout the year!