The Meteor Crater RV Park in Arizona is sure to rock your world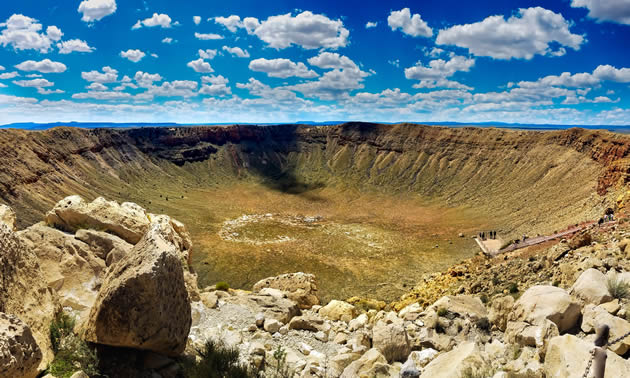 When nighttime falls, the Meteor Crater RV Park becomes the best vantage point in the American Southwest for stargazing. Just 32 kilometres (20 miles) west of Winslow, Arizona, the park is open from 7 a.m. to 7 p.m. year-round. A giant plus to staying at the park is how close it is to the world's best preserved meteorite impact site on Earth.
Meteor Crater is the intense result of a collision that happened approximately 50,000 years ago with the energy of more than 20 million tons of TNT. The current crater is 168 metres (550 feet) deep and has a rim that is 14 metres (45 feet) high. The Meteor Crater Visitor Center is located along that rim. Visiting the actual crater site requires a little over two hours to experience.
Attractions include guided crater rim tours, entrance to the Collision! 4-D experience room and Discovery Centre (complete with asteroids, meteors, mechanics, etc.), and a visit with an Apollo Test Capsule. The theatre shows an exciting movie experience that explains the meteor crash on the big screen. Visitors will also enjoy The Blasted Bistro and the souvenir, gift and mineral shop. Pets are not allowed inside Meteor Crater, but the on-site Dog Ramada has kennels available.
The famous old Route 66 runs parallel to the Meteor Crater RV Park. Residents of the RV park receive a discount on tickets to see the meteor crater site eight kilometres (five miles) away.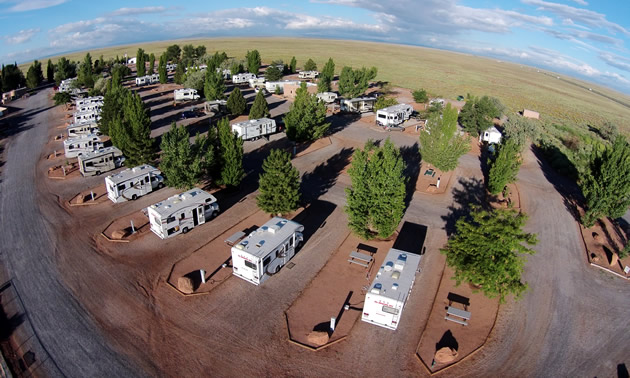 For more information, visit the website at https://www.meteorcrater.com, or check out the "RV Park" tab to make a reservation.
The Meteor Crater RV Park in Arizona is sure to rock your world Information