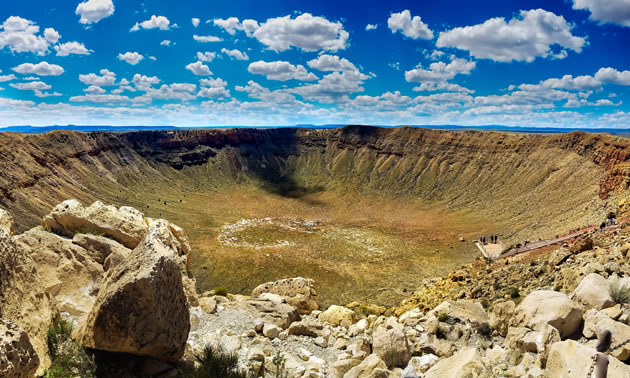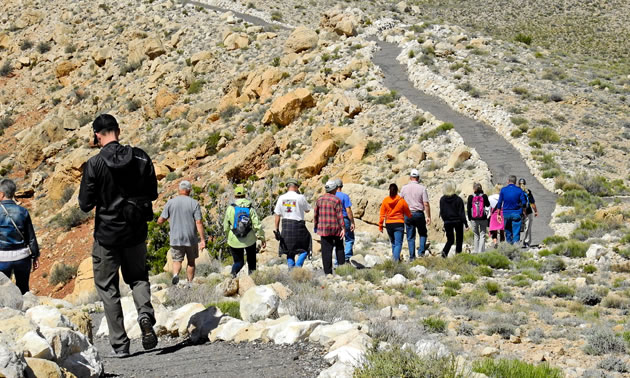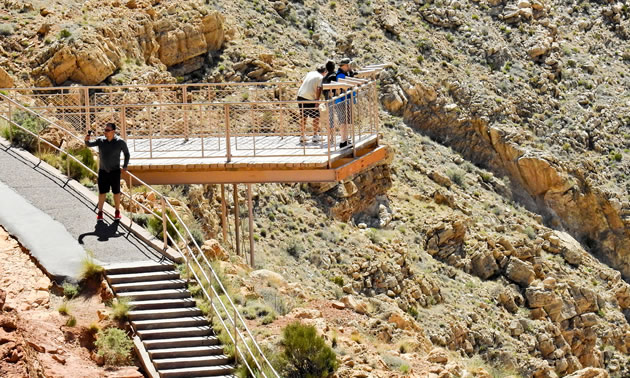 About 50,000 years ago a meteorite flashed across the Arizona sky and ended its space flight in a colossal explosion 60 kilometres (37 miles) east of Flagstaff, Arizona. The meteorite, estimated to be 160 feet in diameter, mostly vaporized upon impact with this planet and left a crater 600 feet deep.
Today the crater is 550 feet deep with a rim that is 45 feet high. While erosion has hidden many other craters on Earth, the warm, dry Arizona climate has been kind to the geologically young Meteor Crater of Arizona, making it the best preserved crater on Earth.
Today the crater neighbours with a visitor centre and an RV park. The visitor centre provides insights into the Meteor Crater and beyond. Through its interactive displays and theatre, the visitor centre explores the impact that meteors have had on our world throughout history. There is a display on the Apollo moon program and how astronauts actually trained in the crater to help simulate walking across the topography of the moon. Visitors can take a walking rim tour of the crater and access viewing decks protruding over the crater.
The fully equipped Meteor Crater RV Park is located eight kilometres (five miles) north of Meteor Crater on Meteor Crater road just south of Interstate 40. It provides full hookups including Wi-Fi and has a convenience store, laundry and shower facilities. Its Northern Arizona location provides superb vistas of sunsets and the night sky. You may even see a shooting star to further enhance your visit to the Meteor Crater.
The Meteor Crater RV Park is also an ideal location for many other attractions in the area: Flagstaff, the Grand Canyon, the Petrified Forest, Sedona, Walnut Canyon and the Sunset Crater Volcano are all within one to two hours away. On your next trip to Arizona, the Meteor Crater is a must-see and now you can enjoy an extended stay in your RV, too.
Park your RV next to the world's best preserved crater near Flagstaff Arizona Information