I Spy'd a Vintage Motorhome—Classic 1970's Winnebago Chieftain
A classic never dies - the Winnebago is still a top name in the motorhome world.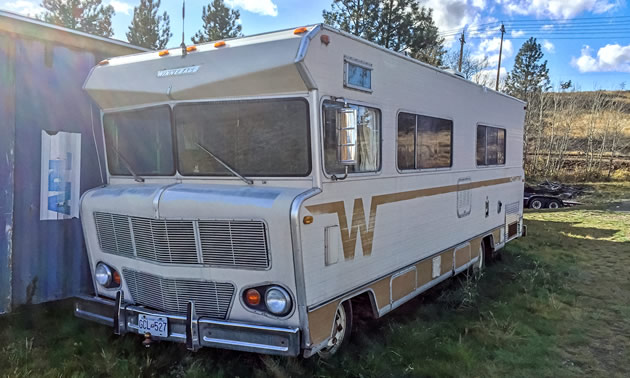 Here's a classic Winnebago Chieftain motorhome from the early 1970's complete with the "flying W" gracing its side. Winnebago has a long rich history in the motorhome world and are still considered an industry leader to this day.
The Winnebago Chieftain a true motorhome classic.
Here's a little company history from Wikipedia: "The company was founded by Forest City businessman John K. Hanson in February 1958. At the time, the town, located in Winnebago County, Iowa, was undergoing an economic downturn, so Hanson and a group of community leaders convinced a California firm, Modernistic Industries, to open a travel trailer factory in a bid to revive the local economy. Surviving a rough beginning, the entire operation was purchased by five Midwesterners, with Hanson serving as president. In 1960 the name of the company was changed to Winnebago Industries. To improve quality, Winnebago Industries manufactured furniture and other components designed specifically for its travel trailers. One such innovation was the "Thermo-Panel", a strong, lightweight sidewall that was a characteristic of Winnebago products. In 1966 the first motor home rolled off the Winnebago Industries assembly lines. These motor homes were sold at a price approximately half of what was being charged for competitors' models, which led to its ubiquity and popularity in the RV community. The brand name has become synonymous with "motor home" and is commonly used as a generic trademark for such vehicles, whether they were produced by the company or not."
Here's a sultry image from a Winnebago Chieftain brochure for that era. The decor was definitely '70's era as well with lots of bright oranges, olive greens and shag carpet.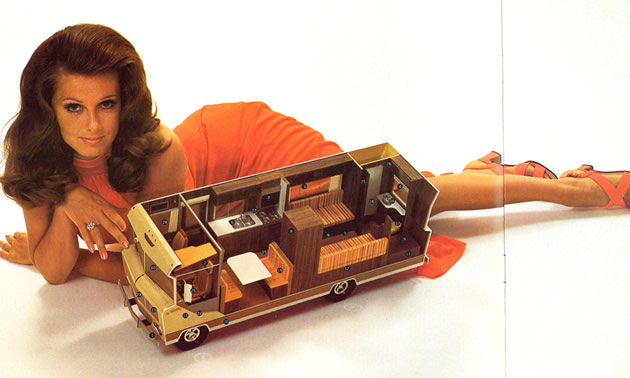 Through the 1970s and into the 1980s model names were influenced by the Native American tribe of the same name and included the Brave, the Indian, the Chieftain, and the Warrior. Older Winnebago RVs are often recognizable by the painted "w" (also called the "flying W") on the side of the vehicle, with a stripe that connects the front and back of the camper."
Got an vintage RV story to share? Did you ever own a Winnebago Chieftain from the 1970's? Share your stories and adventures: [email protected]