The official RV & Camping guide to Missouri is now available in print and digital format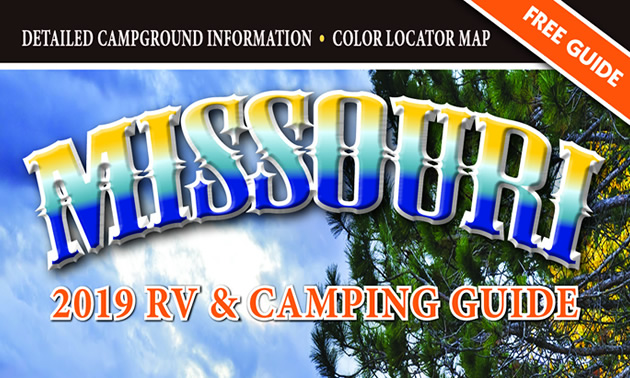 The 2019 edition of the Official RV & Camping Guide to Missouri is now available free of charge in printed and digital formats, courtesy of the Missouri Association of RV Parks & Campgrounds (MOARC).
"We're off and running to a great camping season so far, and our new guide will help," said Larry Helms, MOARC president. "We've streamlined it to make it even easier for the camping public to find places to camp."
The 37-page camping guide, which features 57 privately owned and operated campgrounds as well as five state park campgrounds, is available by contacting MOARC at [email protected]. A digital version of the guide is available at www.CampInMissouri.com, the association's mobile friendly travel planning website.
This is the first year the guide has featured state park campgrounds, which can now join the association as associate members. "Missouri's state parks will share their marketing analysis with us. They will also allow us the put the guide in their visitors' centers," Helms said. "I think it's a very positive thing for us."
Helms said 50,000 copies of the 2019 camping guide have been printed for consumer marketing purposes this year. The guide has already been widely distributed at the Let's Go Fishing Show, Jan. 4 - 6 in Collinsville, Ill. and the Mid America RV Show, Jan. 17 - 20 in Kansas City, Mo. MOARC will also distribute the guide at the St. Louis RV Vacation & Travel Show, Jan. 31 - Feb. 3; the St. Louis Working Women's Survival Show, Feb. 22 - 24; and the Springfield RV Mega Show in Springfield, March 1 - 3.
Designed and produced by Crowley, Texas-based Texas Advertising, the Official RV & Camping Guide to Missouri features an attractive and easy to navigate layout that enables consumers to quickly find campgrounds in different regions of Missouri. The guide also includes website listings for other state campground associations to assist consumers who plan to travel to other states.
Advertisers in the guide include RV dealers who are affiliated with the Missouri RV Dealers Association as well as campground suppliers.
For information about Texas Advertising and its work to promote campgrounds and camping in other states, please visit www.TexasAdvertising.net. For more information about MOARC, please visit www.CampInMissouri.com.