New cabins, RV sites and activities are available now at the Jellystone Park in Lodi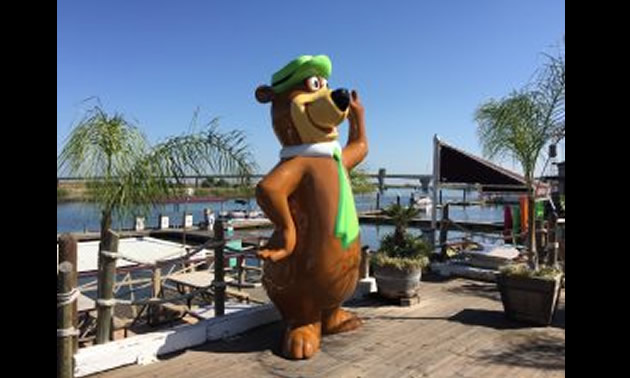 LODI, Calif., April 11, 2017 — Major improvements are underway this spring at the campground at Tower Park Resort & Marina, which is being dramatically transformed into the San Joaquin Valley's first Jellystone Park.
"We just installed five new cabins with two more on the way," said Charlene Chessum, the park's assistant general manager, adding that 20 Delta Deluxe cabins with lofts will be installed in time for Father's Day weekend.
"We are adding red carpet camping sites with 20, 30 and 50 amp power connections and cement pads," Chessum said. The park's swimming pools are being renovated, while the product lineup at the campground store has been expanded to include Yogi Bear themed merchandise, gourmet food items, including two Lodi wines, locally roasted coffee, olive oil and locally produced vinegar.
"We are working with local farmers to bring in local produce," Chessum said.
The park has also hired a new recreation manager to develop a full lineup of organized family activities throughout spring, summer and fall.
"We're very excited about the improvements underway at the Jellystone Park in Lodi," said Zachary Bossenbroek, CEO of Northgate Resorts, a private company that owns seven other Jellystone Parks, mostly in the eastern half of the country. "Our vision is to make the Jellystone Park in Lodi into a true destination resort."
Jellystone Parks offer organized family activities and themed weekends with Yogi Bear, which help families create unique memories. Activities across Jellystone Parks include arts and crafts, scavenger hunts, face painting, jumping pillows, and gem mining, as well as interactions with the bears.
Themed weekends are usually scheduled from April through October, depending on the park's location, and range from family athletic competitions with various sporting events to Christmas in July with Christmas Carol Karaoke and other holiday themed activities to pre- Halloween themed weekends with costume and campsite decorating contests and trick-or-treating. Upcoming events at the Jellystone Park in Lodi include Easter crafts; a parade with the Easter Bunny; a messy egg toss; egg and spoon races; and Easter egg hunts for all ages over Easter weekend. A "Death by Chocolate" weekend is scheduled for May 30 - June 1 with a chocolate Slip N Slide; chocolate eating, drinking and painting; an ice cream social; and candy bar bingo.
A luau week will take place July 10 - 16 with tropical themed activities such as Polynesian dancers and limbo with Cindy Bear. A "Christmas in July" week will take place July 24 - 30 with Christmas caroling contests; cookies and milk with Santa; and campsite decorating contests.
"We believe our activities and themed weekends combined with the new amenities will attract families from throughout the greater San Francisco Bay area and the San Joaquin Valley," Bossenbroek said. The resort, which borders the Sacramento-San Joaquin Delta, offers golf cart and bicycle rentals as well as watercraft rentals including kayaks, paddle boards, electric boats, fishing boats and pontoon boats. Other amenities include Rosa's Italian Restaurant and Sunset Sweets - an ice cream and sweets shop.
For more information about the Jellystone Park in Lodi, please visit http://www.towerparkresort.com.
About Yogi Bear's Jellystone Park™ Camp-Resorts
Launched in 1969, the Jellystone Park™ system is the second largest chain of campgrounds in the United States, boasting 80 campgrounds with more than 17,000 campsites and vacation rentals in 31 states and four Canadian provinces. Its Camp-Resorts are among the best campgrounds in the industry with a quality reputation for being fun, friendly, clean and service-oriented parks. Additionally, each Jellystone Park™ is themed with Yogi Bear™ elements providing instant recognition and consumer appeal. It is truly a place "Where You Camp With Friends."®Yogi Bear's Jellystone Park™ Camp-Resorts are franchised through Leisure Systems, Inc. (LSI), a wholly owned subsidiary of The Park River Corporation, Cincinnati, Ohio. For more information, visit www.campjellystone.com.
About Northgate Resorts
Northgate Resorts is a family owned real estate company, based in Grand Rapids, Michigan. Dedicated to guest satisfaction and providing a family friendly camping experience, Northgate owns and operates premier RV and cabin resorts throughout the country. For more information on Northgate Resorts, please visit www.northgateresorts.com/resorts.