Enjoy camping even if it rains
by Kim Shellborn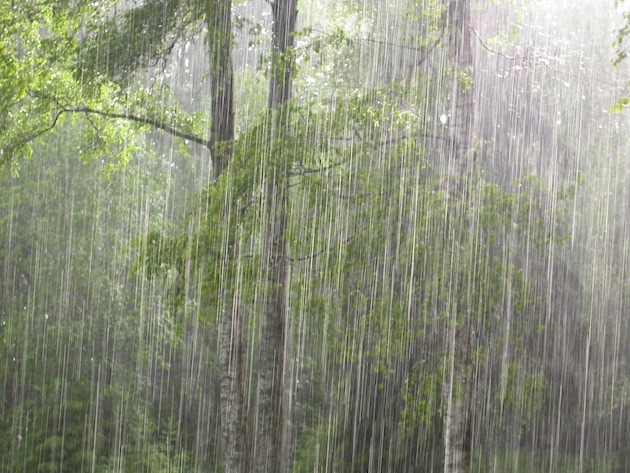 Many of us look forward with great anticipation to the May long weekend to break out our RVs, air out the sleeping bags, shop for junk food and burgers and head out on the long-awaited first camping trip of the season. But as traditional as the May long weekend is for the first camping trip of the year, it also seems to traditionally be blessed with guaranteed rainfall. Some people will anxiously watch the weather reports for weeks ahead of time, constantly checking the updates hoping for improvements in the weather forecast, and are in doubt until the very last moment. But others set off, fair or foul, and are determined to enjoy their first glimpse of summer. For those brave ones I have compiled a how-to-enjoy-the-first-weekend-of-summer-even-if-it-rains list.
The first challenge is actually driving to your favourite spot. Check out these seven tips for driving your rv in the rain from Pleasureland RV Center.
But once you are at the campsite and set up, then what? Here are some tips for your next waterlogged trip:
Watch nature
Nature has ways of giving signs of changing weather conditions. Sudden calm or, on the other end of the scale, sudden gusts of wind can indicate a brusque change of weather and approaching storm. Fishermen always tell me that fish bite more frequently immediately prior to a storm. So if you are on shore and close to your camp you might be inclined to risk an upcoming storm in favour of getting in some great fishing. But if you are in the middle of a lake with your not-very-stable boat, that very well may be the time to get back to shore.
Enjoy your awning
Your awning gives you extended space to your RV so even in inclement weather you can still sit outside, wrapped cozily in a blanket, sipping black coffee and watching the rain come down. Or you can still cook on your barbecue and eat outside if you are under the protection of your awning. The awning is the best of all worlds: the outdoor feeling, but protected from the rain.
Keep the coals hot
Remember that the storm will pass, and when it does you will want to be back out by the fire cooking, reading and relaxing. Store some firewood in a spot where it's protected, so that you have dry wood to throw on after the rain stops. And right before the storm, throw on a couple of the biggest logs you can find. These thick logs should last through the storm and will be easy to stoke up when the sun peeks through again. At least you won't have to try to start a fire with soggy kindling, as the embers will still be glowing when the storm is done.
Activities to do in the rain
Whether it is a passing storm or an all-day rain, it is good to have some activities planned for the possibility of rain. Pull out your favourite book, set up the Monopoly board, dig out the cards or even your iPhone to keep you, and especially the little ones if you are camping with children, from boredom. And if it looks like it is going to be an all-day soaker, think of going to places such as museums and interactive centres in a nearby town.
Air out your wet stuff
If you got caught in the rain or had to unpack while it was raining, it is likely some of your gear or your clothes may have got a bit wet. It is important to air this stuff immediately when the rain stops so that you don't have the mildew smell taking over your trailer. If your entire weekend was wet or you got rain on the last day of your vacation, you will have to air everything out when you get home, including re-opening the awning and drying out your lawn chairs if they got caught a bit damp.
Finally, you need to have a great sense of humour and know that no trip is perfect. Look at this as a wonderful opportunity to spend quality family time or really and truly relax.