Campgrounds and RV Parks across Texas are being used as base camps for fall activities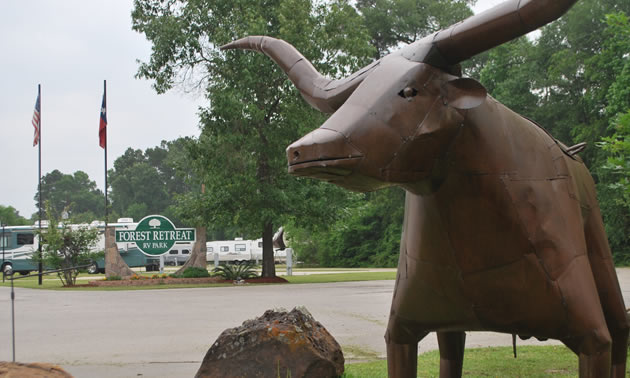 Many Texas campgrounds can be used as base camps for fall festivals and sightseeing activities.
"We have more than 350 campgrounds from the Texas Panhandle to the Gulf Coast, so it's never hard to find a campground to use as a base camp, whether you want to see Palo Duro Canyon, Schlitterbahn's or enjoy our many lakes and streams and beautiful coastline," said Brian Schaeffer, executive director and CEO of the Texas Association of Campground Owners (TACO).
The Crowley-based association hosts TexasCampgrounds.com, which provides descriptions, photos and links to more than 350 campgrounds, RV parks and resorts across the Lone Star State, many of which have park model RVs, cabins and other rental accommodations.
"You don't even need an RV to stay in many of our campgrounds," Schaeffer said, noting that companies like Malakoff-based Platinum Cottages (www.platinumcottages.com) are supplying Texas campers with fully furnished park model style cabins and cottages with separate bedrooms, kitchens and bathrooms.
In addition to serving as a one-stop-shop for campground information, TexasCampgrounds.com also features links to companies that provide RV sales and service, such Channelview Supply in Channelview (www.channelviewsupply.com), which provides RV parts and service as well as RV storage.
Here's a sampling of some of the campgrounds and RV parks on TexasCampgrounds.com that are great places to visit during the fall shoulder season:
Forest Retreat RV Park in New Caney: This RV Park has almost 100 sites with 50 amp and 30 amp service and lots of amenities, including a swimming pool, free cable TV service, free Wi-Fi, public bathrooms and showers, a clubhouse with free coffee and ice, onsite propane and a laundry facility. www.forestretreatrvpark.com
Fort Amarillo RV Park in Amarillo: This park is a popular location for visitors who want to see the Panhandle-Plains Historical Museum as well as Palo Duro Canyon State Park, a rugged 800-foot deep, 110-mile long chasm that is the largest canyon in the U.S. after the Grand Canyon. Other Amarillo area attractions include the Big Texan Steak Ranch, which will serve you a 72-ounce steak free of charge — provided you can eat it along with all the trimmings inside of an hour. Park amenities include a 4,500-square foot dog park, tennis courts,an indoor heated swimming pool, and Lizzie Mae's Mercantile, the park's unique gift store, which features everything from Texas-themed souvenirs to Christmas ornaments to specialty food items, unique baking mixes and condiments to unusual lamps, throw pillows and one-of-a-kind home decor items. www.fortrvparks.com.
Loyd Park in Grand Prairie: Loyd Park is a 791-acre recreation area located in the middle of the Dallas/Fort Worth metroplex on the west shore of Joe Pool Lake. The park has 221 campsites, eight lakefront cabins, an 18-room lodge and a two-bedroom, one bath house for rent. Built on a site with large majestic oak trees just a few steps from Joe Pool Lake, the Loyd Park Lodge, which opened last year, features a fully furnished kitchen, a covered porch with rocking chairs, barbecue grill, a fire pit and big screen TVs and Wi-Fi. Loyd Park also features furnished one- and two-bedroom cabins with kitchens and bathrooms as well as large private and group campsites, each of which comes with its own picnic table, pavilion, grill and fire ring. www.loydpark.com
Majestic T.L.C. RV in Cedar Creek: This park features quiet country views on privately gated property. It is also conveniently located with ease of access to downtown Austin, the Circuit of the Americas, and shopping in Bastrop (voted most Historic small town in Central Texas!). RV sites feature 30 and 50 amp service. Amenities include an onsite laundry facility and a fenced dog run. Lodge, cottage and executive suite rentals are also available. www.texascampgrounds.com/campgrounds/majestic-t-l-c-rv/
Pecan Park Riverside RV Park in San Marcos: This park sits on a scenic bluff overlooking the San Marcos River, and is a popular location for river tubing enthusiasts. RV sites are big rig friendly and many sites are shaded with mature pecan trees. Park amenities include an indoor swimming pool and hot tub, a private Jacuzzi, a children's library, an RV supply store with propane sales. www.pecanpark.com
Stone Creek RV Park in Schertz: This park is a great base camp for excursions to major attractions in New Braunfels, such as Schlitterbahn's Waterpark, Rockin' R River Rides and Texas Tubes, and San Antonio, which is home to The Alamo, The River Walk, the San Antonio Zoo and Aquarium and many other attractions. Onsite amenities include a hot tub; family and adult swimming pools; two large off leash dog parks with dog agility equipment; and two large recreation halls. The park also provides free cable TV and Wi-Fi and cabin rentals. www.stonecreekrvpark.com
Texas Ranch RV Resort in Alvarado: Texas Ranch RV Resort spans across 100 acres of Texas grassland, with 50 acres of oversized RV sites and another 50 acres of recreational area. The park features a fishing pond. Other new amenities will soon be available, including pickle ball and a swimming pool. www.texasranchrvresort.com
The Vineyards Campground & Cabins in Grapevine: The Vineyards Campground & Cabins occupies 52 acres of an 850-acre mostly wooded scenic area encircling Grapevine Lake. The park offers RV sites with concrete pads as well as furnished cabins. Amenities include cable television and upgraded Wi-Fi service and a pavilion. www.vineyardscampground.com
Based in Crowley, the Texas Association of Campground Owners is the trade association that represents campgrounds, RV parks and resorts across the Lone Star State. For more information about camping in Texas, please call Brian Schaeffer at (817) 426-9395 or visit www.TexasCampgrounds.com and www.TexasCabinRentals.net.