Trying out RVing in preparation for retirement
Gary and Laura Beswick of Nanaimo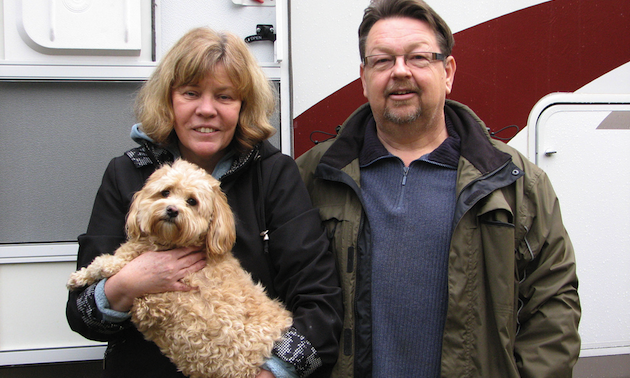 Not wanting to wait until retirement, Gary and Laura Beswick of Nanaimo decided to buy their RV now and "practice" before taking longer road trips. With their dog Parker they are enjoying Vancouver Island for the time being.
Have you ever owned an RV before?
No, this is our first one. We did have a camper trailer many years ago. We shopped for two years before we decided on the fifth wheel we bought and initially it wasn't going to be that big, but we got over that hang-up real quick. We thought it would be easier to manage a smaller unit but realized we would be okay with a bigger one.
What size is your RV?
It's 30 feet and we're comfortable that our truck and trailer are a good match, so we feel good about towing it anywhere. Sometimes I have to remind myself that it's behind me.
How did you prepare yourself for towing your trailer?
I took a training class that was quite helpful and took the ICBC exam. It was borderline whether I needed it, but I figured that the more I could learn the better off I would be. That was stressful. I didn't park it perfectly, but was impressed with what I did do. I am glad we are learning about the RV now and not waiting until we're retired. There are a lot of things to remember. Before camping at a local beach I drove down in my car first and checked it out. I was glad I did.
How much have you been able to use your RV?
We bought the unit in the fall of 2011 and our first trip was up the road to Surfside Resort for Thanksgiving just to try it out. Last year we used it extensively on Vancouver Island. By camping locally we can learn about our RV, figure out what we need to take or not take and it's also nice to get away even though we're close to home.
What are your long term plans?
We are sort of intrigued by the Baja but have no definite plans as of yet. We have looked into caravans for our first trip but that won't be for a few years. Vancouver Island has lots to offer us and we are taking the time to learn about RVing and get used to being on the road. Not retired yet, we will use our RV for short trips and then start extending them off the island, maybe into Washington.