Enlist the aid of the Barnyard Empire for the ultimate firepits
What do Darth Vader, a Tie fighter and a Volkswagen have in common?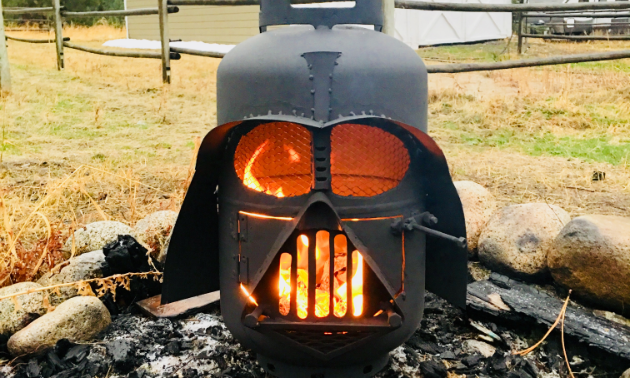 Looking to make an impression with your fellow RVers? How about a firepit shaped like Darth Vader's iconic helmet? It's all possible at the Barnyard Empire!
"So far we have done the Darth Vader, Volkswagen and Tie fighter firepits," said Adam Schewe, owner and chief metal butcher at Barnyard Empire in Peachland, B.C. "The Star Wars ideas came from a shop in England that makes amazing things but was too pricey."
Rather than pony out the dough for a fancy firepit, Schewe decided to build his own with the help of his family. His wife, Misty Lee, handles all media posts and is the designated "Hype Man." Their 15-year-old daughter, Regan, is an apprentice metal butcher and welder, and their 11-year-old son, Evan, helps with odd jobs and uses his creativity and problem solving to improve projects.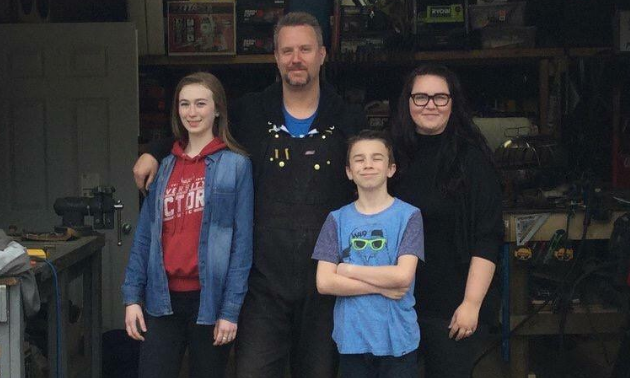 "We started by recreating things we found online that we liked for our own home," Schewe said. "People started requesting their own, which then turned into custom orders and collaborative efforts."
Any extraordinary business such as Schewe's needs a cool name that stands out as much as his creations. To his credit, he pulled it off masterfully, just like his products. "After purchasing our own little oasis, we started to think of ideas for ways we could earn some extra income," he said. "Jokingly, we talked of how we could build our empire out of an old barn. Thus, we became the Barnyard Empire!"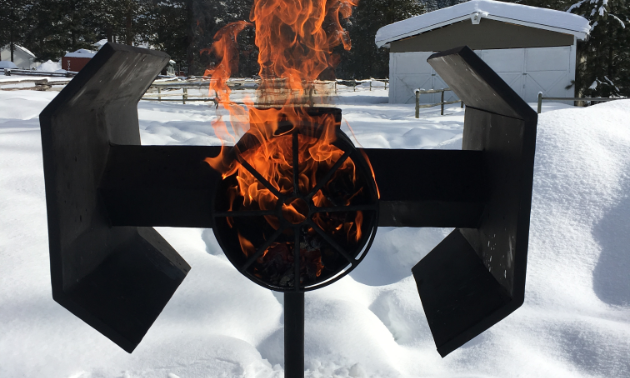 Barnyard Empire's current projects include a custom Tie fighter for indoors with LED lighting, a four-foot-diameter death star fireglobe and a seven-foot tall rampart lion sculpture for an outdoor piece. Schewe also makes smaller projects such as picture frames from old doors and Bluetooth stereos made out of vintage suitcases that can be taken on camping trips.
As for supplies, Schewe uses recycled propane tanks and follows the old expression about "one man's trash . . ."
"A trip to the scrapyard usually finds us what we're looking for," he said. "I also love using old automotive parts as I've also got a collection of old trucks ready to restore. We like to try and upcycle things that people dispose of and repurpose them for a new life."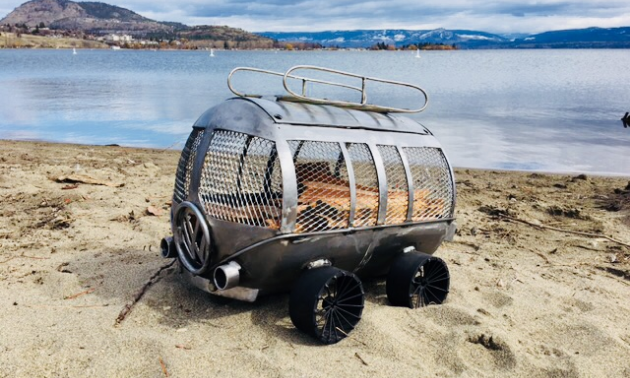 If Barnyard Empire's impressive firepits have spurred your imagination, Schewe can work with you to turn your idea into a reality. "I really love the idea of bringing people's visions to life and collaborating to make it even better than they'd hoped," he said.
Thanks to his creative craftsmanship, Schewe has managed to form a phenomenal family business. "This has been a fantastic opportunity for our family," he said. "My dad left me the tools when he passed away unexpectedly at a young age. That led us to finding property where I could set up and use them. What a great experience to all work together on these projects."