Porkapalooza MEAT UP
Porkapalooza is happening June 10 and 11 this year at Edmonton Northlands
by Timothy Fowler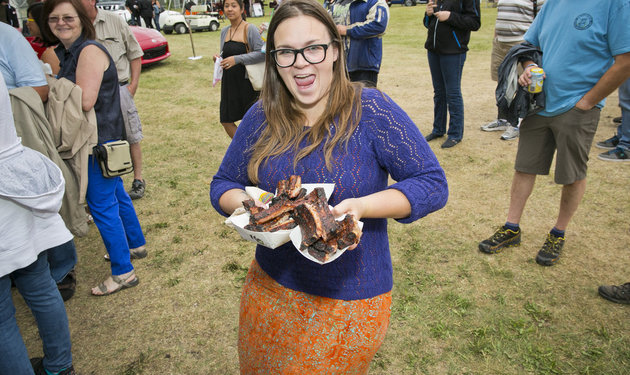 When: June 10 & 11, 2017
Where: Edmonton, Alberta
Porkapalooza is happening June 10 and 11 this year at Edmonton Northlands. This "MEAT UP" is a Kansas City Barbecue Society certified barbecue competition, a food festival, a charity fund-raiser, and family event. And best of all––admission is free.
The Event
You can watch close to fifty BBQ Teams perform their culinary magic while battling the smoke to win a slice of the $17,000 prize money. Visitors can enjoy live music, check out the on-stage food demonstrations, and satisfy their hunger at an assortment of food trucks featuring barbeque and grilled items. This is a family event and the Kid's Zone features a play area, games, crafts, face painting and more.
Barbeque Culture
The smell of smoke has been drawing out the competitive side of cooks since we discovered cooking not-directly-over-the-fire. This competition is about low and slow––smoke––and continues this year with mandatory categories of chicken, ribs, pork butt and beef brisket, in addition to three optional categories: Chef's Challenge, Chef's Choice, and Alberta Pork Challenge.
"9-11 PM Saturday night is my favourite time. The smell is amazing…seeing the lights through the smoke is surreal," Scott Chomos said.
Chomos is the Pitmaster of Arrowhead North BBQ Team which includes spouse and three kids. Arrowhead North won three first place spots in 2016, and is the defending Grand Champion of Porkapalooza.
Competitors will likely tell you they worked all Saturday night. (Because they did.) Sometime Saturday evening the pork butts and beef brisket get rubbed with spices and introduced to the smoke. Various smokers require different effort throughout the night. Some smokers are the set it and forget it variety, some, like charcoal, require intermittent re-fuelling and fussing through the night. Ribs and chicken are cooked Sunday morning and the first item (chicken) is due into the judges at noon Sunday. Teams of six judge for appearance, taste and tenderness on a scale between 2 and 9. A Kansas City Barbecue Society official is on hand to oversee the scoring and help determine the winner.
The Competition
Are you up for a bit of friendly competition. Teams can register here.
"BBQ Competition is camping with purpose: all the friendship of camping expanded with the fun of competition," Russell Smella said.
Russell, Janice, and their kids make up the SmellaQue team. They have taken seven second places over the last couple of years. SmellaQue finished as Reserve Grand Champion of Porkapalooza for both 2015 and 2016. You can bet they are gunning for the Grand Champion title in 2017.
Saturday is the Chef's Challenge, and there's a kid's competition for preschool and older kids.
"Relax, have fun, these are easy going folks, and advice is easy to come by," said Chomos.
The best time to connect with the competitors with your barbeque questions is Saturday. By the time Sunday dawns competitors are focused on turn-in times and making sure they score all the points possible.
Porkapalooza Partners for Charity
Alberta Pork through Porkapalooza partners with Y.E.S.S. (Youth Empowerment and Support Services), Ronald MacDonald House, and Adaptabilities––providing food and financial aid where needed. The large Kidzone is hosted by AdaptAbilities.
Join in the Fun
Last year about 55,000 people attended Porkapalooza, enjoyed the smell of BBQ, celebrated BBQ culture, listened to live music, took in food demonstrations about barbecue, and enjoyed offerings from food trucks and beer grounds. Would you like to join in the fun? Check out the Porkapalooza website.